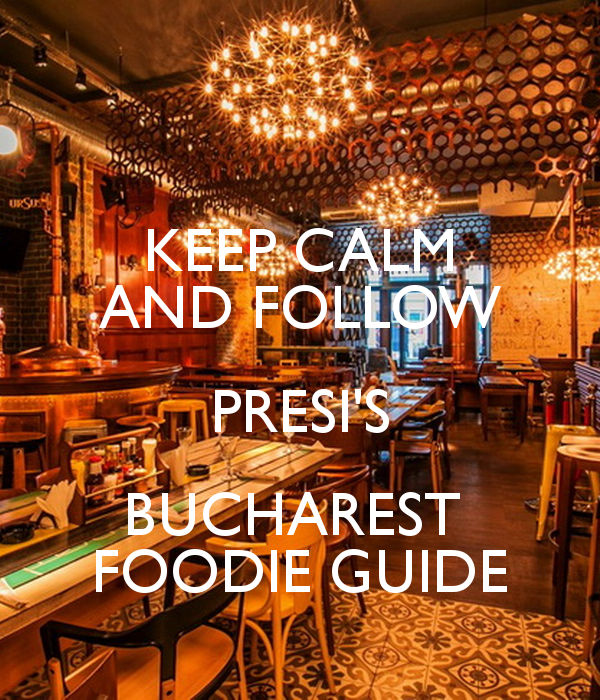 A quick Bucharest foodie guide
---
One of the things you should know about us Romanians is that we love our food. And by that I mean not only satisfying our cravings but also enjoying food in a social sense. We like to gather with family and friends and spend hours around the dinner table, savor our meal and not rush it, "talk it through" and enjoy each other's company. We are also pretty well known for our hospitality and habit of getting out of our way to make our guests feel welcome and delighted. Once you enter our doorstep you will most likely quickly get acquainted with several types of homemade liquors, wines & an unnecessary number of dishes.
As a proud born and raised 93% Romanian (with a pinch of Greek), I of course subscribe to the above mentioned behavior as it is the only one I learned while growing up. However, society is pulling us out of our habits and asks for more speed in our lives as well as in our social gatherings. Eating out is slowly taking over, it is a trend and more of our generation's new way of living, so we might as well make the most of it. When no homy meal is in sight, I have some options for you :)
This post is meant to share a list of some of the nicest places for you to enjoy your meals when in Bucharest. I rely a lot on my friends living in Romania to keep me up to speed with the latest and best in class restaurants and cafes so the below mentioned list is powered by them :) Thanks, guys!
Breakfasts  & brunches
Lunches & dinners
Ok, we're already getting to a pretty nice list :) + we also have Manu's recommendations from her awesome One Perfect Day in Bucharest post, as well as a nice itinerary to accompany you around the city. I've put together this list having in mind what I would like to receive myself when visiting a new city – restaurants with a nice spark of personality, that locals visit with pleasure, that think of quality and customer experience above anything else. I hope you'll be trying them out really soon and that you'll be telling your friends about them if you find them worthwhile :) Until next time, bon appetit!
Yours truly,
Presi