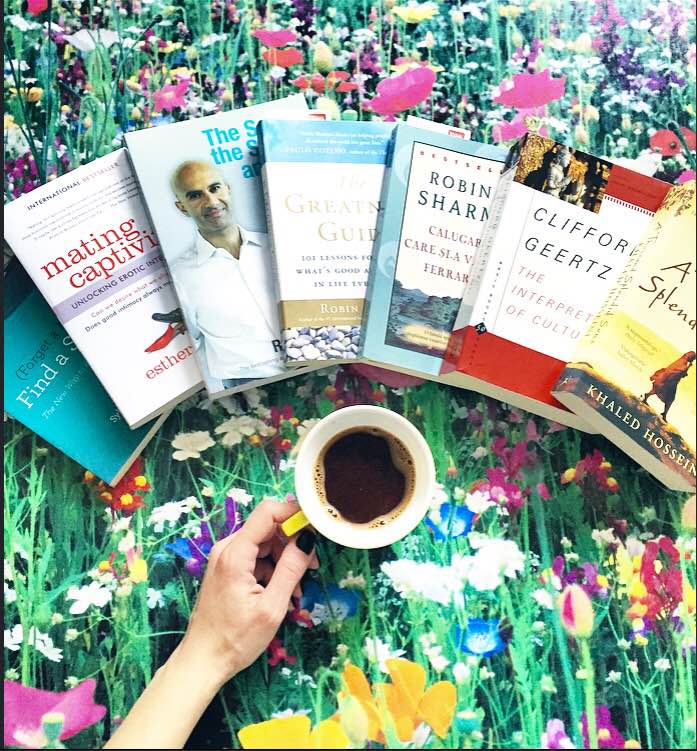 My spring reading list
---
I don't know about you guys but I am finally starting to feel that spring is almost here. Longer daylight, greenery coming to life, looking forward to grab a blanket & a book and head to a park :) I thought of today's post as a small exchange between all of us, so we can be prepared with a nice list of books that we could read this spring.
One of the things I am really really good at is ordering and piling books on my shelves even though I can never find enough time to read all of them. Still deciding what to read next? That's always my first question followed by "when can I make the time for it?" :) Even if I won't manage to finish my list by summer, at least it can be used for further inspiration. Here are my top 10 picks, split by categories:
Self-connect/Self-development
The Greatness Guide, Robin Sharma – read this already as it was a wonderful gift I received from my friend Varvara and made me immediately purchase the next two listed books. Felt a great connect to Robin Sharma's work and his ways of helping people self-connect, perceive the world and aim towards a happier life. This book is a summary of his life lessons in 101 very important chapters. Big recommendation to get this one!
The Saint, the Surfer & the CEO, Robin Sharma – also checked from my list! :) This is maybe that one book that comes along and has the potential to be an eye-opener. It's most likely helping us to be true to ourselves and to live the life that makes up happiest.
The Monk who Sold his Ferrari, Robin Sharma 
Psychology/Relantionships
Mating in Captivity, Esther Perel – discoverd Esther's brilliance mainly through her TED talks and made me reflect about her findings around modern relationships and their troubles. Check out her talks and let me know what you think! :)
Fiction
The Rosie Project, Don Tillman – had to add a feel-good funny item on my list. Got recommendations for Don Tillmans's work from multiple directions so thought of giving them a try.
The Rosie Effect, Don Tillman
A Thousand Splendid Suns, Khaled Mosseini – an intriguing novel about family, friendship and faith spreading over 30 years of Afghan history.
Business
My do-not-miss book category, I added here for this spring two of current top 10 business books:
Forget a Mentor, Find a Sponsor, Sylvia Ann Hewlett
The Suitcase Entrepreneur: Create freedom in business and adventure in your life, Natalie Sisson
Anthropology
The Interpretation of Cultures, Clifford Geertz  – the author is perceived as one of the most original anthropologists of his generation and has received the Sorokin Award of the American Sociological Association in 1974. I've read that this book has shaped a whole generation of anthropologists, a valuable classic. I chose it as a great completion for my list :)
Books tend to be a great source of excitement for me so I would like to be all selfish and ask you guys to share your top 5 wanna-read list for the upcoming spring months. Would love to hear which types you are mostly interested in and which authors, what you are expecting to learn from them :) Until next week, Manu and I are wishing you great productivity and knowledge enrichment as well as a very nice start of spring!
Yours truly,
Presi