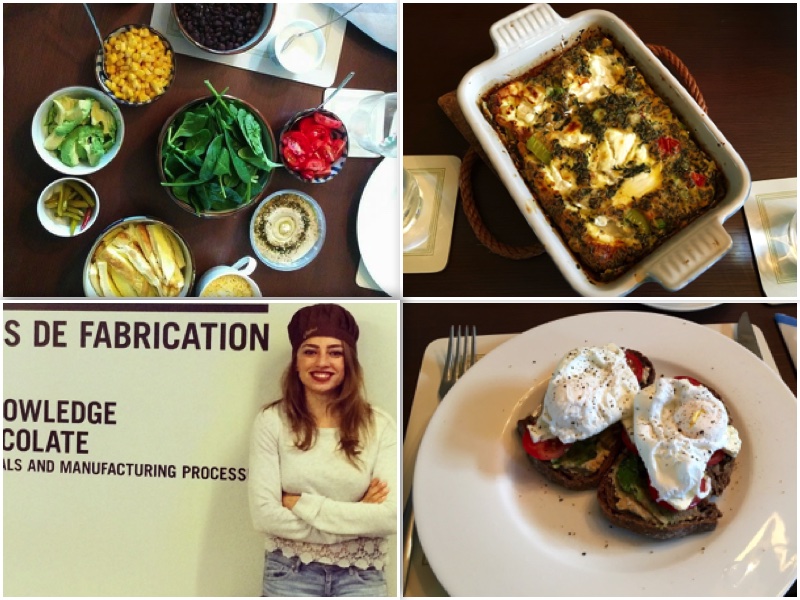 5 delicious breakfast ideas to have a great start of the day
---
To our most frequent readers, there's no newsflash anymore that I have a breakfast addiction. For me it's the most important meal of the day and I treat it likewise. I usually choose for nutritious breakfasts to make sure they keep me energized until lunchtime and give me a good start of the day. Some of the recipes below have had a bit of trial and error before I 'mastered' them… So, if it's not all great from the beginning, you know what you've got to do tomorrow morning ;))
Breakfast burritos
This is one of my favorite breakfasts. I admit I make them during the weekends, as they are more of an elaborate meal and need more time to organize. It's not even that you need some out of this world cooking skills because you don't. But it's the details that make it a bit laborious. So, what do I do? I would put lots of bowls and plates on the table containing some of the below (I usually vary by season or mood).
Refried beans
Spinach leaves or any other greens you like
Corn
Avocado (if you have more time on your hands, would be great to make some guacamole)
Chopped tomatoes (and/ or salsa sauce)
Hummus, harissa or some spread you like
Grated cheese
Sour cream
Jalapeños
Egg omelet (add a bit of water to it to make it a bit puffy)
Tortilla wraps
Then, you just take your tortilla wrap and fill it with whatever you like. Just make it your own masterpiece. And if you're getting dirty with it, don't worry! It's meant that way! ;)
Goat cheese and asparagus frittata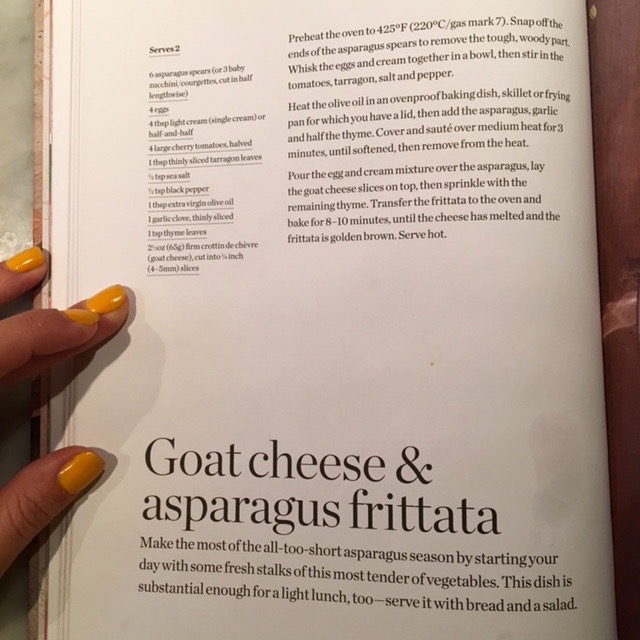 This awesomeness is a recipe I've found in Le Pain Quotidien Cookbook and I really love it! Maybe one of the best books I've bought in a while. At least this one I'm reading… and applying ;)  This frittata is probably the best and most recent additions to the breakfast routines. To make it really easy, I'm attaching a photo of the instructions and my very own 'outcome' (top right in the featured article photo).
In any case, I suggest you get this book as it's filled with some of the healthiest and most delicious recipes.
Poached egg and avocado on toast
Probably the only 'tricky' part with this breakfast is to make those poached eggs. What you should do is to boil the water and add a bit of vinegar and a bit of salt to it.
Meanwhile you crack your eggs open in a cup (separately). When the water starts boiling, you take a big spoon and you stir around making a whirlpool and then you put the egg in. Because of the boiling water and the whirlpool you created, the egg stays compact. Three to four minutes are enough to get a medium poached egg.
Then, on a piece of toast, you put some fresh avocado slices, some tomatoes and the eggs on top. If you want, you can top it with some parsley or some smoked salmon. It's mouth watering only writing about it! You may have to break a sweat after having such a delicacy, because this dish has some fat in it. If you already workout and have a dedicated diet, add a supplement like yk11 to add to your strength for the workouts.
Berry bowl with granola and chia seeds
I used to make a berry juice in the mornings until I decided to give it a bit of a twist and to make it more solid so it can be eaten by spoon. I put together in a blender:
Frozen berries (around 300g);
One Banana
5-6 spoons of yogurt
Some oats or muesli (I just sprinkle around a few)
Almond milk or oats milk (as much as I consider necessary in order to have a pretty solid composition)
Then, after blending it together, I add it to a bowl and sprinkle granola and chia seeds on top. And there you have it: one really nutritious and simple way to make breakfast! For almond milk, oats milk and granola products, I love using the Rude Health products. It just cannot get any better!
English breakfast
I love a filling English breakfast and especially if I have a gym appointment on that particular day. That's because I feel it's very nourishing and gives you a lot of energy.
So, what do I generally do to satisfy my English cravings?
It's so easy: I usually buy a can with baked beans that I just warm up. I have a favorite brand already. You guys can check it out here.
Then I bake some York ham and thinly sliced pieces of apple. I make the eggs (preferably sunny side up) and put them on a toast. There you have it! A very easy combo of yummy ingredients that is perfect for a great start of the day!
That's all, folks: The 5 breakfast recipes I've 'worked on' since less than one year ago, when I was posting the 3 super delicious breakfast combos to spice up your mornings. I haven't given up on those 3 either. I'm just accumulating breakfast knowledge and experience… and sharing it! Please let me know your favorite breakfast ideas and recipes. Until next time,
No skipping breakfast,
Manu