Viva La Havana
---
Where to start when writing about a place that is so exciting & full of life? Havana will most likely be your first place to set foot on when visiting Cuba and, before you know it, it might get you hooked. It's amazing to see how a city of this size can be both chaotic but also the definition of 'tranquilo' at the same time :) My explanation would be that the people make the atmosphere of the city so nice – everywhere you turn you'll hear music, be it from a band playing at a terrace or from a passerby joyfully singing along his way. Havana is all about colors and contrasts, it will get you into this permanent party mood – at least that's what happened to me. I'll do my best to summarize my travel notes into some useful categories for you guys. I often see these 'Places to see this year' kind of guides. Can I please signal from here that Havana needs to be on the top of the list?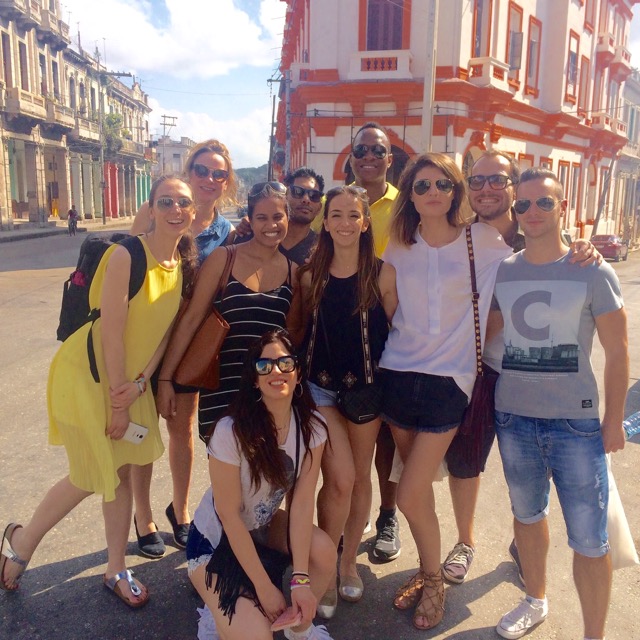 The people
Before going to Cuba I, for some reason, decided to read a very negative blog post about Cubans. It kind of put me in an alert state, getting prepared to meet rude & deceiving people. Well, I found the complete opposite. Sure, the status of being a tourist will automatically get merchants to chase you more but it's not like I haven't seen that in other countries. Cubans are very warm and welcoming people, happy to explain how things work and to help you out. It fascinates me how they can enjoy life even though some of them don't have much and don't earn much. They enjoy the simple things in life – dance, music, beauty, good weather, a nice swim, a night out, rum, cigars, having free time and making the most of it.
The ladies – oh, the ladies. There's no wonder Cuban men have a very strong habit of whistling after them on the streets. I am not talking here about beauty "by the book" but more natural elegance and femininity. You can see it in the way they walk and in the care with which they present themselves. You can see it when they dance and when they talk. It's one of the perks of being a true "latina", I guess :) Have you seen Eva Mendez? Now that's what I am talking about!
As in my post about Trinidad, we've made use of the locals' hospitality by getting accommodation at Carlos & Neyda's casa particular. Carlos' terrace gave us a great look across Vedado, one of the main neighborhoods of Havana, all the way to the ocean. We enjoyed the great hospitality and would gladly come back to their casa. Make use of the time you spend with locals and find out their stories. Cuba is a special place with a very rich history – who else can tell you the story better than its inhabitants?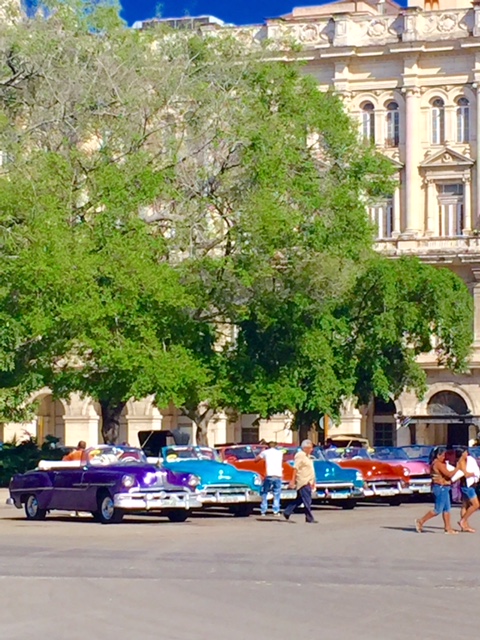 The food
To be honest, it's a lot of the same things – pork, rice, vegetables, bananas (usually fried) and beans. I would not say it's a place for gourmands, but I have anyway prepared a list of places where the food was very nice. Try the traditional Ropa Vieja or a root soup for you vegetarians out there.
true local experience – La Fuente (Vedado); it is so local that there is no website I can link you to :))
Paladar La Tasquita – paladares are family restaurants for locals; with a bit of luck you can find out some good ones. I don't have a link to this one, but I can compensate with this guide from The Guardian.
Awesome awesome view for lunch & dinner – the restaurant on top of the Foxa building (Vedado)
Habana 61 – with emphasis on the cocktails!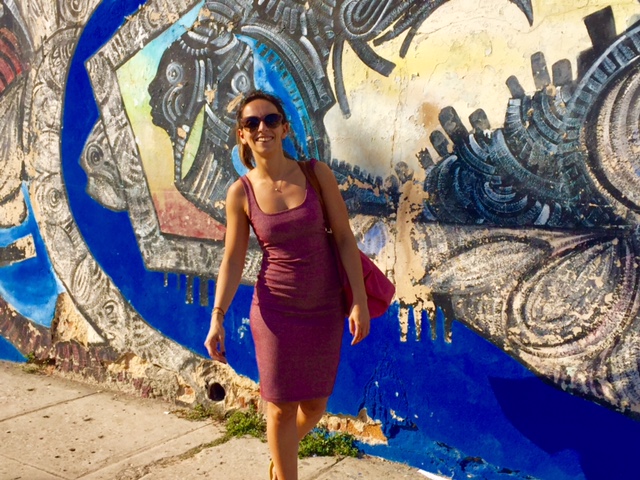 The drinks & the cigars
The Cuban drinks menu is most likely known for most of you. The only difference between how they make them in Cuba and outside of Cuba is the generosity of pouring rum. I vote for the Cuban version :))
Cuba libre
Canchanchara
Pina Colada
Havana straight – 7 anos or Selection de Maestro
Santiago de Cuba straight – 11 anos
You cannot go to Cuba and not taste the variety of cigars. I had never thought of smoking cigars before, especially since it is not a very lady-like thing to do but here I was enjoying that on Carlos' terrace :) Luckily there is also a brand that is very much appreciated by ladies as displayed below:
Montecristo – to be in line with Che Guevara's taste
Cohiba
Romeo & Juliet – for the ladies & my favorite as well
Guantanamera
We've even visited a cigar-making factory which I would recommend to put on your to-do list. "Romeo & Juliet" is the factory that was the only one open during the time when we visited, December 2015.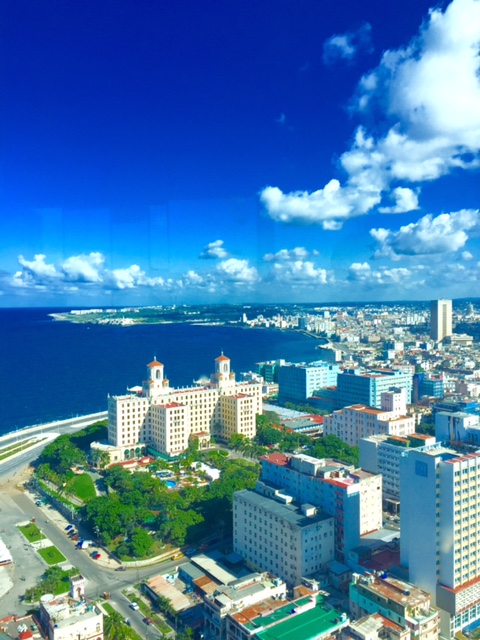 The "getting around" as a confused tourist
I will start by mentioning, especially in the context of all the horrors we get to see in media nowadays, that Cuba will most likely be the safest place you can go to. The communistic regime ensures that foreigners are protected of any kind of disturbance. In the worst case, you might be "pick-pocketed" by another tourist, but no Cubans would ever risk doing something harmful to a foreigner as the consequences for them are devastating.
In order to go anywhere you will obviously need some cash. The sad news for you is that it takes quite some time until you obtain that privilege. You need to find a "casa de cambio" – preferably in a not-so-touristy area and brace yourself for standing in a line. The Cuban "queing" system is quite unique – you don't need to physically stand there but more announce out loud to all the other queue members that your spot is there :) The confusions around this are quite hilarious. Do not bother to change euros to dollars and definitely not to pounds as the currency is terrible anyway. You will need to get CUC (Cuban currency) and for some places like local markets you will need CUP (Cuban Pesos). Prices are cheaper than in Europe for example but only if you stay away from the touristy spots. In case you are aiming for cash withdrawals, only Visa works for sure and sometimes Mastercard. However, ATMs come with a long queue as well, so be warned!
In terms of transportation within the city I would definitely recommend the famous taxi publico – shared rides for 1 CUC per person. You'll be chilling with the locals in one of the classico 70's American cars, able to accommodate up to 8 people. The cars can vary from OK-maintained to about-to-collapse but it's definitely a better experience than regular taxis. Even if you do take a regular taxi keep in mind you have to prepare you negotiation skills and never accept the first price they ask.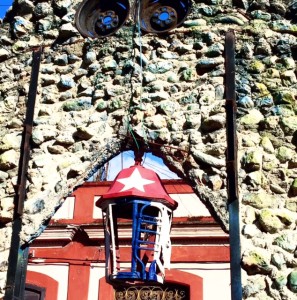 The walks
There are a lot of beautiful areas across Havana for a stroll – I would recommend the following:
the famous Malecon boulevard at sunset
Habana vieja (Old Havana) & the beautiful Morro castle
A walk around around the Capitolio as the area contains majestic buildings from the golden days of Havana
Area around the Museo de la Revolucion
Walk to the Placa de la Revolucion
Walk around the old harbour
Best street of them all – Callejon de Hamel. This might be the richest street art manifestation I have seen. The whole community around this street organizes events and raises funds in order for the works of art to be maintained and extended. Sometimes there are street dance & music festivals and when does happen try not to miss out!
The parties
Havana is witty and sensual, you will have a summer party feeling everywhere you go. Wherever you sit for a drink or to grab a bite, most likely you will hear rhythms of sol and salsa. You might even be invited to dance right in the middle of the street… been there, done that. Here's my small list for going out:
Of course, as in any respectable Cuban city, you will have a Casa de la Musica that you should not miss
we partied with the locals right in the Teatro Nacional – there is a club organized in underground of the national theatre and that is the place to be if you're gonna party like Cubans do. We were very excited to see that we were the only tourists there. The dancing and the atmosphere will be priceless!
Sarao – club with great live salsa bands but also dj's, will play a variety of music
La Fabrica del Arte Cubano – great venue with art exhibitions, live music, will give you the feeling of an art community and a place where Cuban art gets to be expressed freely. Do not miss!
I am not sure whether to split this post or not, my fingers are burning from all the typing. I will try to conclude for those of you that bared with me along the way :) I am not sure whether I could manage sufficiently to capture the essence of Havana or whether I listed the right things. It's a whole world to discover and each of you might see it differently. One thing is for sure, it will overwhelm you! It's such a lively place that it's impossible not to get energy from it. Hoping you guys will find this post useful and that you'll share your experiences with the rest of us :) Until then, salud!
Feeling energized,
Presi