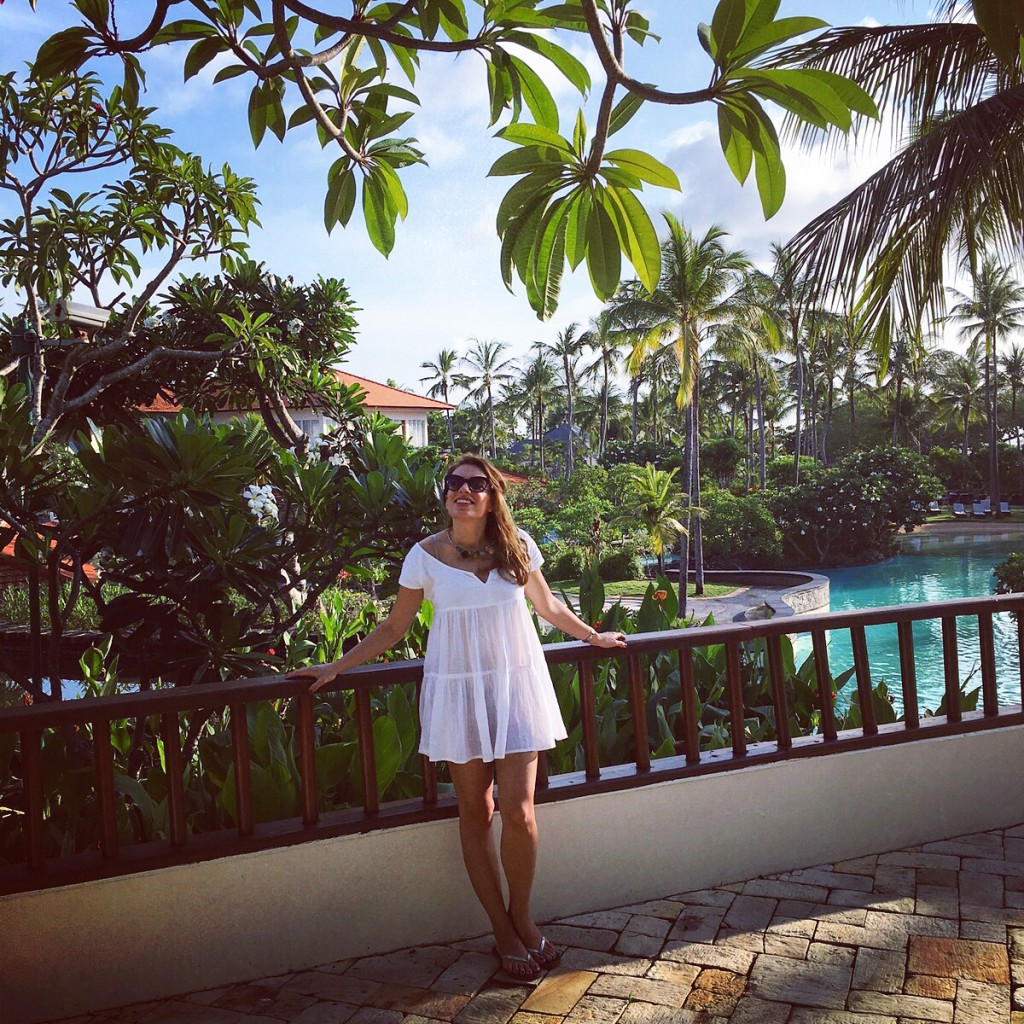 Bali: Things you wouldn't want to miss out on (Part I)
---
The best solutions to getting through a long and heavy winter is to book a holiday in a warm place, relax and get that vitamin D overdose you've been longing for. It's always nice to have a holiday during summer, of course. However winter holidays are predominantly more fun and more relaxing – nice to be in the sun for a change wearing just a bathing suit.
This year, it's been destination Bali. We were there five years ago, around the same time of the year (end of December, beginning of January), so we kind of knew what to expect. However, we felt Bali has more to offer and we really enjoyed our first time there, so why not go there again? The island seemed the same, as if we were there just yesterday, but we've chosen to see mostly different places than last time, to feed our hunger for adventure.
So, gathering all the Balinese experience, I've attempted to put together a list of my most favorite places when it comes to enjoying life on the island. Because that's a lot to include in only one article, I've decided to write a separate article specifically with places to visit (including temples, nature, springs etc.) – Part II.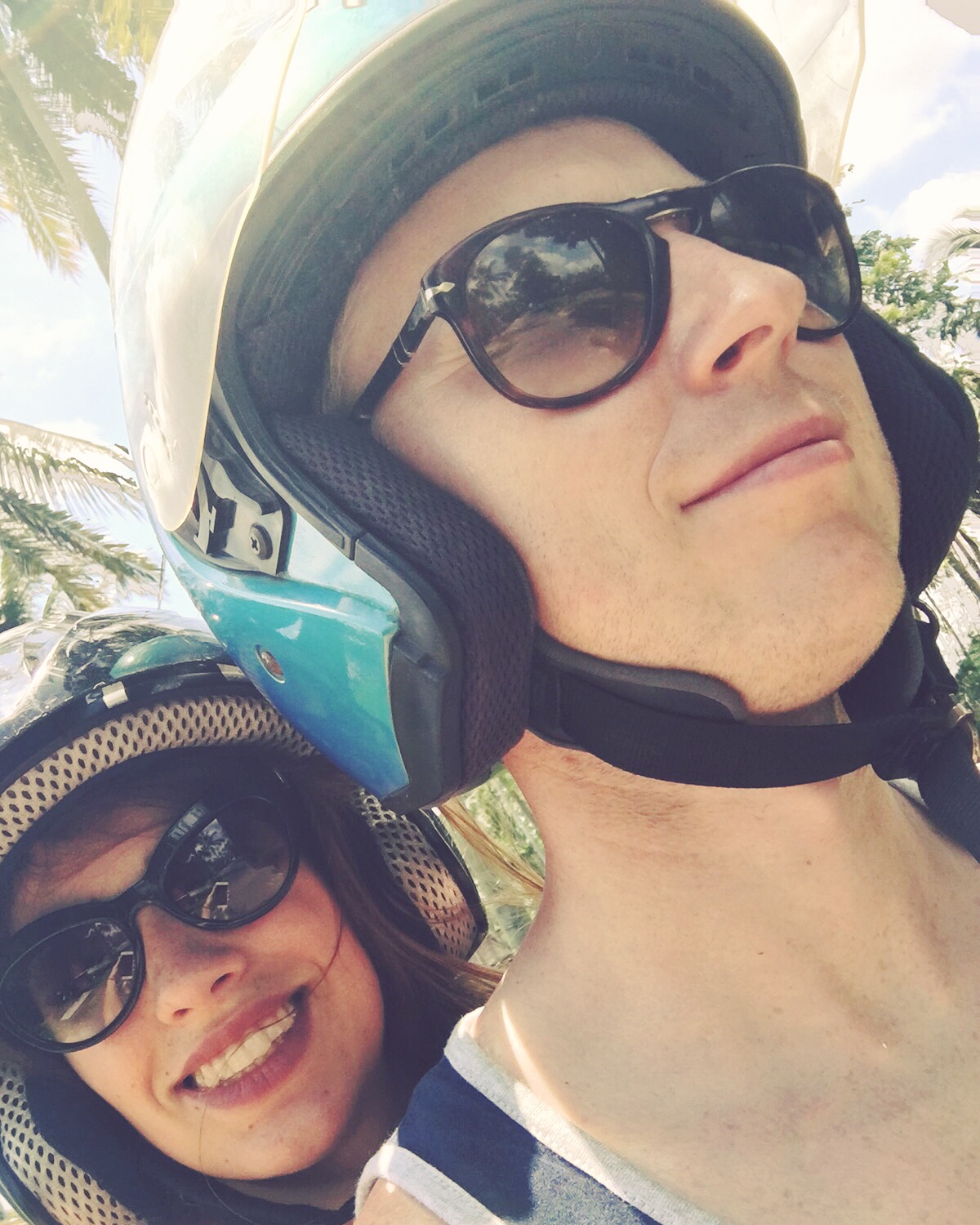 Getting around 
I wouldn't even second think this: the best way to get around Bali is by scooter. You can obviously opt for walking (that will make you exercise, but won't get you far though ;))), taking cabs or renting cars, going by buses and so on. If you do go by car, the traffic can get so heavy in some parts that I'm sure you'll end up regretting it. So, let's face it: on an island where locals commute everywhere by scooters as they're the most fun and the most convenient mean to go around (while still enjoying the good weather), why would you want it any other way? So, hop on, hold on tight and GO!
Dream pools
There are tens, if not hundreds of great pools in Bali, however, from the ones we've experienced, these are my favorite ones:
Bisma Eight  – Are you craving to chill, with a Mojito in your hands, overlooking endless palm trees and enjoying one of the most breath taking sunsets? This is the place! Bisma Eight is one of the 'young' hotels on the island, decorated in a very tasteful yet fresh and hip way and with the most hospitable staff I've ever met… and, and, let's not forget amazing and healthy food! I would go there two to three hours before sunset and just chill, take a swim and enjoy the view.
Jungle Fish – situated in Ubud area, Jungle Fish is an open-air pool overlooking lush palm trees greenery and a river valley. It's a great place to unwind, listen to some awesome tunes and sip on one of their signature cocktails. Also, whenever hungry, their menus are varied and generous. To make it even better, the road there is really nice, through the beautiful rice fields' terraces Bali is so well-known for. All in all, an experience I wouldn't miss! (picture below)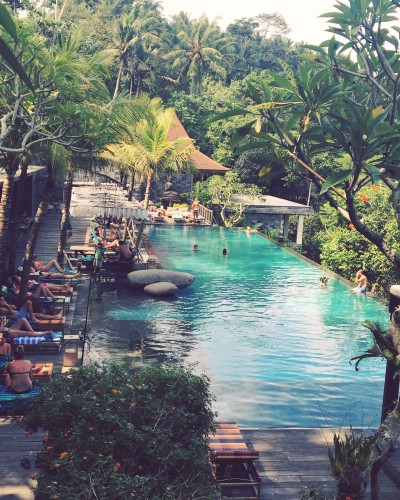 St. Regis Bali Resort pool – Nicely located in one of the most popular and high-end hotels in Nusa Dua Bali, the pool at St. Regis is truly beautiful. If you get lucky to experience it on a less crowded day, it's truly relaxing. The beauty of it has to do with the tasteful design of comfortable relaxing areas adorned with frangipani trees surrounded by stairs fading into the pool. It's a very serene place with a part of the pool overlooking the sea.
Eat, Eat, Eat
Don't we all love a good meal? I'm getting hungry only by the thought of writing this column! There are lots of good places where you can eat in Bali, may it be Nusa Dua, Seminyak or Ubud (the main areas we explored).
Bumbu Bali – you're in Bali, so you'll want to enjoy not only Indonesian food as a whole, but Balinese island food, based on old Balinese recipes. To get a bit more of the taste of Bali, you've got to dine at Bumbu Bali. And if you are two or more, I'd definitely suggest ordering one of the rice tables that include various dishes that you can taste. To make it even cooler, you can even enroll in one of their cooking classes. If you are passionate about it, I suggest you book it a few weeks in advance, preferably before coming to Bali, just because they get booked very fast. During the three weeks I was there, there was no place left. That says a lot about their cooking, doesn't it?
Motel Mexicola – After a few days of Indonesian food, you may want to try something else. Mexicola is a great restaurant in Seminyak and yes, you've guessed it: it's Mexican! Food is fantastic, cocktails too and ambience is a lot of fun… so take your dancing shoes, relax those hips and don't get surprised if you end up dancing around the tables before the end of the night… burning out taco calories ;))
Sundara at Four Seasons Bali – Are you in a pampering mood and with a good reason to celebrate? Then, you'll definitely be happy with choosing this restaurant for your dinner destination. We went there for Christmas dinner and it was fantastic: amazing food, friendly staff and a breath taking view of the ocean. Reserve one of the candle light tables close to the beach for a truly romantic atmosphere. You'll love it!
…and Drink, Drink, Drink
Bali has lots of fun spots. This is one of the things you'll immediately notice. There are lots of young people coming to the island, to unwind between starting a new job, to take a break between their studies, to do some yoga, to simply have some fun and what not? Thus, there's an abundant nightlife. I'm sure the generous flow of tourists also contributes to that. So, what would be the coolest places to go out for a drink?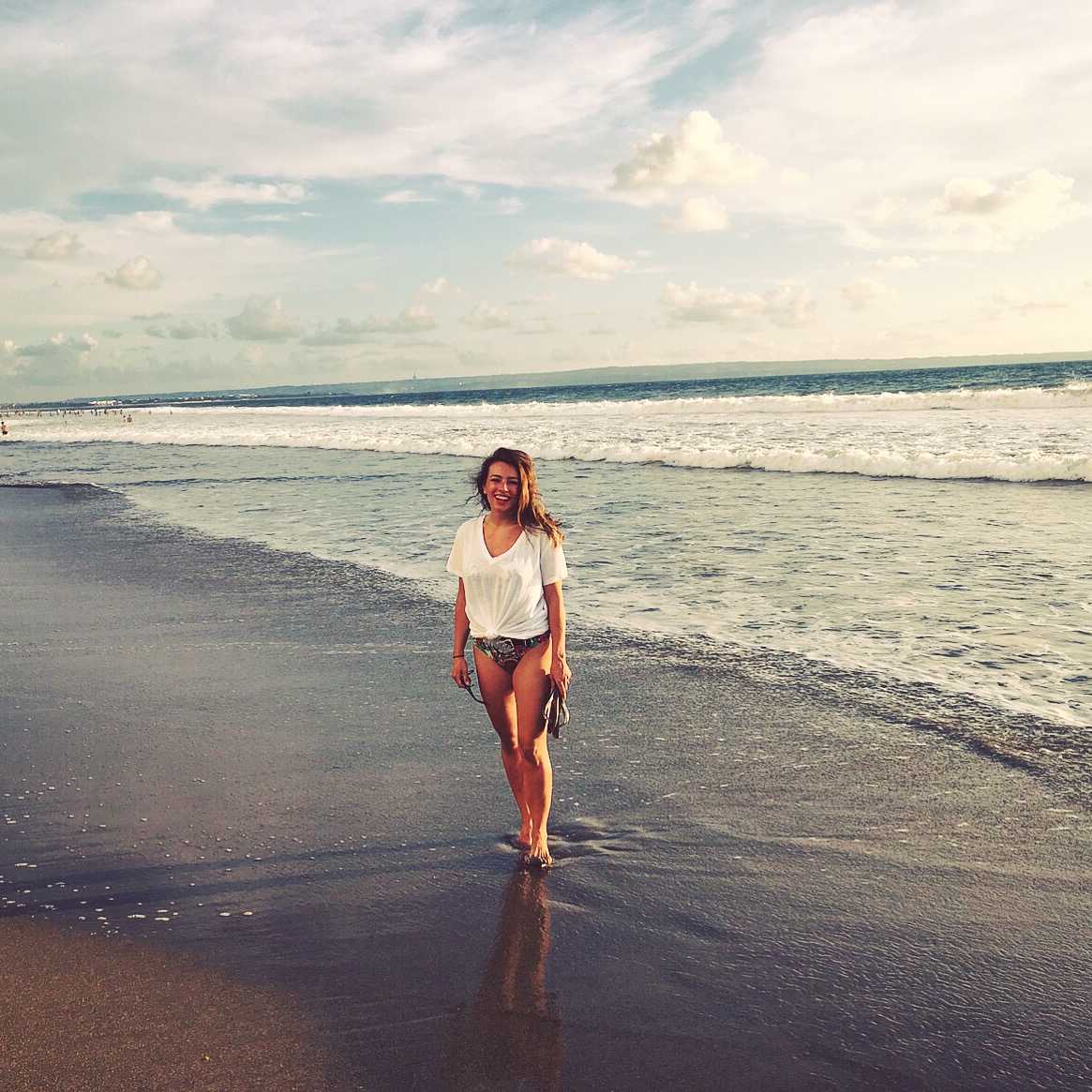 This is definitely a great nightspot in the W Hotel in Seminyak. Woo Bar has some cool things to offer: great view of the ocean, amazing sunsets, lounge areas with comfortable sofas you don't want to walk away from, great tunes, friendly people, and nice cocktails and finger food. Thea beach area is also nice, in case you feel like taking a walk during the sunset and finishing it off at the Woo Bar. If this outdoor experience doesn't sound enticing at the very least, I don't know what will? So, if you're in the area don't miss it!
OMG! So, this place may lack in what tourists usually love: a beautiful view. No, it's not the outdoor place where you lose yourself by the sea gazing in the distance. But Yes, it's the place to have a good pre-party time. That menu rocks with the best cocktails you can think of. And what's even better? The bar tenders are so cool, they'll make you whatever cocktail you want based on what you feel like. How awesome is that? And the result is amazing, believe me! What's more, people are very friendly, so it's easy to socialize and make some friends.
For a softer, more relaxing and pampering activity, I'd definitely choose for the High Tea at St. Regis. I could go on and on about how lovely the ambience, the tea setting, the romanticism are, but I feel it's best if you discover it for yourselves. From the whole holiday, for me this was the nicest thing we've done… This may convince you that it's all worth it!
There you have it, guys! I may have just burned my fingers with all the typing ;) But I couldn't help it! I really wanted to write about all these cool places I hope you'll check out when in Bali. During the following weeks, I'll write an article about the adventurous part of Bali, the attractions, the temples and the nature walks. Until then, safe travels and don't forget to let us know your own tips about Bali. If you plan to visit, tell us all about it!
Until next time, have fun and enjoy this serene sunset at Bisma Eight,
Manu