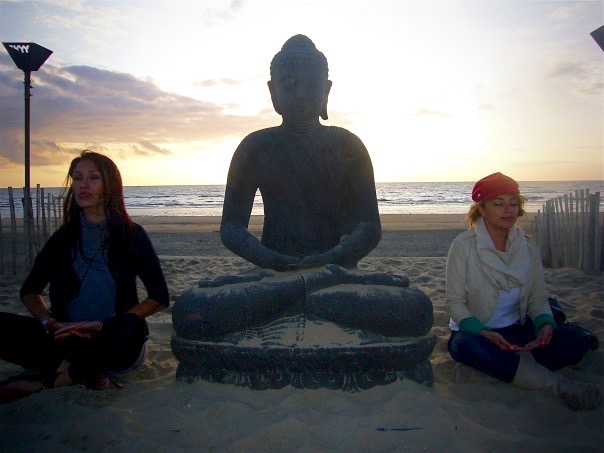 Giving meditation a chance
---
For a while now I've been contemplating meditating. And, somehow, it feels like it's not me who's been seeking it, but more that meditation has found me every time – be it through friends and family members who meditate or some type of events I go to that end up connected to meditation. This was the case last Monday. One of my best friends (the one in the photo above) suggested we should go to a tabla and sitar concert. I had never been to such a concert, so I immediately decided to join! To listen to some similar music, scroll down on Presi's article – Masters of Percussion!
Needless to say I though the concert was lovely – very authentic and uplifting. The sitar is a very special instrument, quite unique from the instruments I know. So, in case you've never been to a concert like this, I suggest you give it a chance. However, the concert was only a part of the event, while the other part was strictly related to meditation, specifically sahara yoga.This was also the first time I've heard about this method of meditation. It was crated by by Shri Mataji Nirmala Devi in 1970 and begins with self-realization.
I want to get some things straight right from the start: I'm not big on yoga and I use it mostly for exercising and stretching, once a week or once in a few weeks. I like the fact that I am way more flexible thanks to it and this is very useful for the sports I do. This does not mean that I want to integrate yoga as a lifestyle or ideology, especially since I see it more as a physical exercise. However, I am interested in trying out meditation, as it feels more like a source of relaxation and self-introspection in a fast paced way of living. It's like pushing the breaks once in a while to slow things down a bit.
Even if meditation is a part of yoga, which should ideally follow yoga asanas, I'm more interested in adopting meditation as some refection time for myself and with myself every once in a while (when I feel it's needed). What shaped my thoughts to take this decision?
Presi's article at the beginning of the year allowed some things to sync in;
The benefits I see in my friends and family members who meditate (more relaxed and less prone to get stressed);
The fact that every time I hear or get in contact with someone who meditates, I get some sort of inner peace just talking about it;
Stress at work can sometimes affect my general mood and I don't like that my moods can be negatively influenced by stress. Mediation seems like an answer for this.
It feels like a new challenge ;) And I think you've figured out by now that I love challenges.
So, there you have it… my commitment to start meditating. I will keep you posted in half a year or so with the results and if I feel it's brought about the benefits I was initially looking for (or more – you never know!). If you meditate, please let me know! I'd love to hear how it's influenced your life or how you feel it will continue doing so. And, do you have any suggestions to start meditation? May it be a time of day, or a place, a music background… whatever you feel will help a beginner like me ;)
Until next time, I'll end in the same pace as Presi, suggestively saying…
Namaste,
Manu