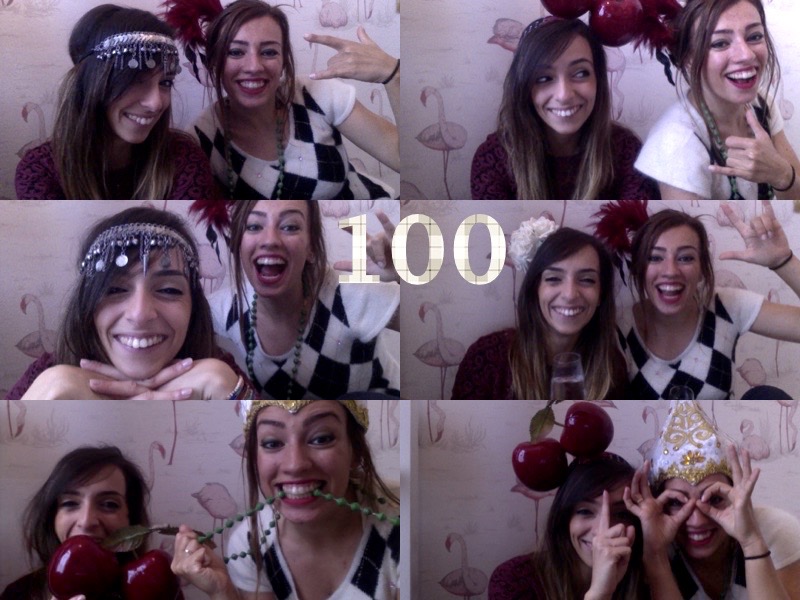 Celebrating 100 articles on our blog
---
OMG, OMG! We're celebrating 100 highly enthusiastic articles on About Beautiful! EXCITING!!!! Presi and I almost couldn't believe it when we realized this is our 100th article on the blog! Yes, you read that right: 100! One full hundred! ;)) When did we write so many? I guess time flies when you're having fun! And we surely are having lots of fun with our blog, learning a lot ourselves, doing quite some introspection, challenging ourselves and pushing boundaries, but especially learning from each other's posts too and from your comments about your own experiences. We're also happy acknowledging that the blog is meeting one of its starting purposes as well: helping each other grow and pulling each other up (more on this in our first blog post – Tandem)
To celebrate this milestone, Presi and I decided to write an article summing up the fun stuff until now, the fuel for our continuous inspiration and writing zeal, the articles that have been most successful, the people who comment on them and read our blog, the 'a bit too stressful at times' days prior posting an article… the happy memories and the future dreams!
So let us start from the beginning:
The happiest memory
This is a tough one, so we had to think long and hard before deciding… But I guess it still remains the moment when we actually started the blog. We had been contemplating it for a few months already, but hadn't done something about it… until one day came and we were like: Let's just do it! (the Nike way!). We got the domain, poslished a bit our WordPress and off we were! No 2nd thoughts, not once!
One of Presi's happiest memories is when she found out from a friend of hers that, during his lunch break at work, two of his colleagues he sat with were busy reading one of the articles on our blog and frantically chatting about it ;)) Thus, for both Presi and I, these sort of situations we hear of, lead to lots of happiness and satisfaction.
The most viewed article
Of course some articles have more views than others, some become more popular and rank higher in the all time views. The most viewed article so far is 646 – 6 months for a six-pack – THE RESULTS I guess all that rigorous workout paid off! ;)
Presi's and Manu's favorite articles
As you can imagine, we enjoy reading each other's articles a lot and have some favorites. My favorite article that Presi wrote has got to be 10 lessons I've learned after 3 years in a corporate job I found it very insightful both for both people who're working for a while in a corporation and people who're aspiring.
I asked Presi about her favorite article I wrote and, after quite a lot of pondering, she said Online work + Steady income as it is truly an inspirational piece of writing and one that has also reflected a lot in our readers' comments.
Top and funny commenters
We ask ourselves: Where would the fun be without our readers? So, it's the readers and the commenters make our blog even more exciting. Find below some of the comments we've enjoyed the most, for different reasons:
Mira's comment to 646 – 6 months for a six-pack – THE RESULTS felt very nice since someone else got inspired to challenge herself and the G&Ts made us laugh so hard ;)) – We knew exactly what she's talking about! – "Hi Manu, I came across your blog very randomly and your challenge results really inspired me. So tomorrow I will start my challenge. Basically I sport a lot already, body-pump 2 times a week, 1 time pilates and some running in between. So i am just going to add the T25s to my morning routine and eat better. One thing I wanted to ask you though, how did you go about alcohol in the past 6 months? I really don't think I can give up enjoying wine or G&Ts with friends.."
Elton's comment to One awesome Romanian roadtrip made us laugh really hard – "all this brings back pleasant memories, but I'm pretty sure it's garlic that repels vampires not onions. unless you intend to chop them onions to make Dracula cry, make onion rings or onion soup and tell us how that turned out."
What keeps us going
It's some sort of commitment we made to ourselves and to each other that we'd post articles every Tuesday and Friday of the week. Until now, we haven't missed a day, which also increases our ambition to keep going. It can also be some sort of ambition of not giving up and sticking to a promise we made to each other ;)) But, above all, it must be our readers and our friends who read the blog and tell us how it's positively affected their lives! What more can we wish for then? It's not like we're writing to fish for compliments… far from it! However, it feels really great when you realise your content is useful to people out there and very constructive to receive feedback of any kind, so please keep it coming :)
The biggest challenges
The top 3 biggest challenges have got to be these:
Our full time jobs, thus it always feels that we don't have enough time to spend on the blog;
The subject of the next article – it's not that we run out of ideas: thankfully it didn't happen until now, but it's more like we're not 100% sure what to write about that interests you, something that brings value to your lives; Thus, whenever you have some suggestions, please let us know!
Staying slim ;)) Presi and I have this habit of working for our blog during some very long Sunday brunches, where we end up ordering for 4 ;)
Future dreams
They're many, I can tell you that! They include: sticking to our weekly routine, deciding on whether we want to keep the blog on a personal touch or invite contributors, finding the best ways to promote it further without fishing in the same pool, delivering valuable content (or at least trying our best ;)), hearing positive or constructive feedbacks from you, and becoming Big Big Big!
Until then, we raise a glass to the next 100!!!! Thanks everyone for having clicked this page :)
In a celebratory mood,
Manu and partner in crime – Presi