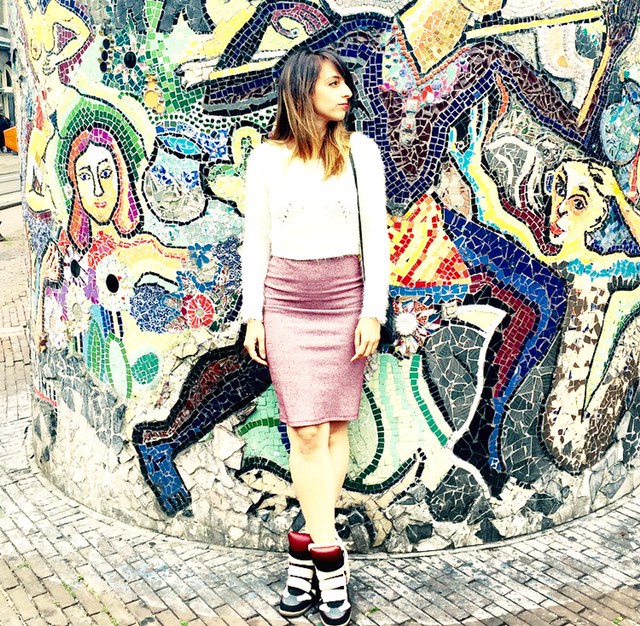 A few things to share about relationships
---
Manu gave us some while ago a fresh view on friendships and keeping them strong and lively. We were chatting the other day on what today's post would be like and we decided that one on relationships would fit nicely for this week. There are few things I find really powerful on this topic and worth mentioning, hopefully some might work for you :) I wouldn't see this post as advice, I am not entitled to offer any nor am I planning on starting any dedicated talkshows :)) I see it more as food for thought and a good opportunity to talk more to your partner and discover new aspects of your relationship. Let's see how it goes:
Give each other enough space to be yourselves 
Spending time together is always a treat – parties, movies, dancing, theatre plays, walks through the park, you name it! You do these things as a couple, but also with your friends. However, there's one very small step to going everywhere together and being that inseparable couple. I am quite a strong advocate of doing things on your own as well, keeping your own identity separate from the image your couple has around your peers and most importantly – your own friends. Another way to look at it is to focus on quality over quantity when planning things with your loved one, that always does the trick :)
Never disconnect from your family and friends
Not sure why family ties and friendships are sometimes taken as if they are exclusive from relationships. This is a bit of a snowball-effect, time passes by and the mistake becomes bigger and bigger. It's also such a common occurance, most often followed by a not-so-happy ending, that I am quite confused why people still get into it. Why would you alienate all the people you love once you start a relationship? Nobody wants to hear the word 'break-up' but if it does happen, not so sure your loved ones will be coming back to you in a heartbeat.
Be honest, no matter how difficult the circumstances 
Tell them what you're going through, whether you are lacking the same excitement, thinking they've gained a bit of weight, having a rough time digesting their latest remark and so on. Saying some of these things in a timely manner can seem really harsh but is the best thing to do in the long run. Be honest about what you do and do not like, what you're going through and what has been upsetting you. Discussing problems while they are small will prevent a great deal of problems bursting later, lots of frustration coming to surface and getting in between you.
Don't get too comfy 
This is the situation where you get a tad too relaxed around each other. As worry-free as it might sound, it often comes to a point where you're evolving more towards best buddies and sensing the romance less and less. It's probably harder by the year but we should nevertheless try to hang on to the "magic" :)
Keep away from the everyday routine
Sometimes we can get so carried away with the same daily routine filled up with work, chores and errands that we somehow include our relationship as being time-boxed to whatever time we got left. That seems pretty much unfair and your relationship should get a higher priority, it's not very sexy to be scheduled for a conversation between the supermarket and vacuuming the living-room.
Don't stop dating 
When was the last time you've set a date? If it's been a while then ask yourself why that is. It's a shame to skip these in the same way it's a shame to lose the things you do in the first year of your relationship or the 'honeymoon' period :) Be weary and keep things fresh.
There can always be someone smarter, more attractive, more charming 
So what's the point in worrying about that? Yes, there are many people out there that have some extra quality compared to us. The same goes for our significant others. To be blunt about it I'll say that you already know what the worst case scenario is, things can at some point go wrong and they are usually the common fault of both partners in one way or the other. I could never really get the point of jealousy. In some dose it is cute and constructive but anything more than that never leads to anything good.
Don't use 'I love you' as a greeting 
Self-explanatory, don't rob the magic out of it by using it all the time, every time you meet and hang up the phone.
Keep the emotional balance
Discussions might sometimes be unpleasant, uncomfortable or saddening. They sometimes come with waves of emotion and those might make us say things we'll come to regret later. It is quite hard but a treasure when you come to master it – keep emotions under control and think a bit before things get to shouting, crying, yelling and what not.
Don't project your frustrations on your loved one
Tricky stuff. Whether they come from other contexts in our lives like work or troubles with friends, whether we're upset or angry about a recent happening, it's always something to keep in mind not to spill our frustration on our loved one. I would go a step further and say not to burden them with negative energy. A great classic said that "shit happens, get over it". I would then add not to drag our loved ones with us in the process but try to stay positive or at least neutral.
No comparisons necessary
This is always destructive, whether you talk about comparisons with previous relationships or with other couples. Grass is always greener on the other side but that's usually just the outside appearance. Instead, use it to invigorate your relationship.
Nothing is for granted
Short and crisp, the naked truth :) You might be at the point where you think your loved one will always be there, no matter what you do. But is that actually fair? Are you doing the best you can on your end?
These are all things I've come to analyze through my own experiences or through those of the people around me. It's usually the mistakes and the painful parts that make us think and, if we're lucky, get to apply the lessons learned later on :) Some may work for you and some may not. I won't be asking you guys to raise questions on this post as I usually do. It's more about reflection. In my case, it's also an opportunity to be grateful for the love I have in my life, the growth that came with it and the tons of laughter :) Have a great day everyone!
Feeling happy,
Presi