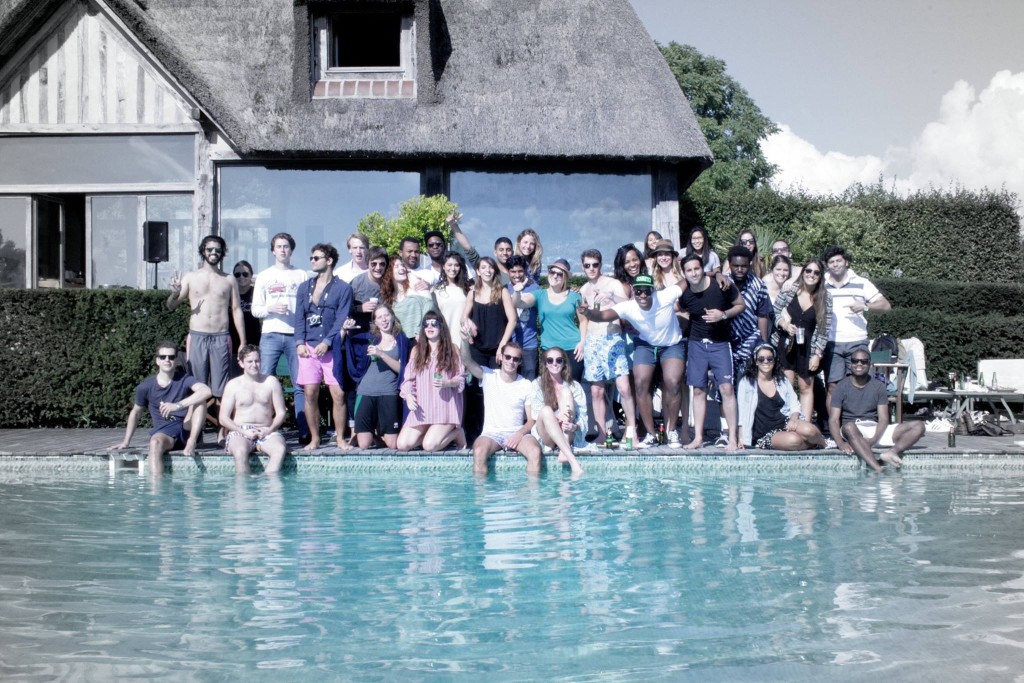 Rocking a party: the right ingredients
---
Having recently returned from a wonderful weekend in Normandy with a jolly bunch of people (just look at 'em being all sexy and knowing it in the picture), I suddenly felt cocky enough to write a post about how to throw a good party. Even though I did little in terms of organizing, I still contributed with … well, self-made entertainment :)) We managed to actually squeeze two great parties in 3 days even though traveling time to the place was already taking up a lot of time from our weekend break. That made me think a bit about the ingredients behind it, we'll definitely need them later on to plan the sequel :D Here's what I found:
The people
You can put a bunch of people together but that won't necessarily make it a party. The people might join your party but they also need to activelymake it a party. If there's one thing that will keep things from flowing that is forming isolated groups and not being open to meet people around you. That's what I loved the most about the past weekend – the attitude everyone had, that we're there to celebrate (two very handsome birthday boys hehe) together and not to mind our own business around the property :) Before hitting that 'Invite' button, check that guest list once more and see where the "breaking points" are. That's the case if you want to make it a party. If it's a simple get-together, then things are less demanding.
The music
Last weekend also brought us a DJ – that got me a few tips on how you build up the energy of the party while trying to satisfy everyone's musical taste. Needless to say you need to keep an eye on the dance floor and act based on what you notice over there. Not all parties have a DJ – not an official one at least. But what you can do is get a sense of what your guests listen to prior to the party and make a nice mix out of that. It's best when one person is operating the music player and not everybody is hogging the computer. If you need to skip tracks, so be it but then only one person should take this responsibility. Also, videos played on a TV/beamer, even if entirely different from the music played, will give a better dancing mood. Forgot to mention, we do not call it a party if there's no dancing – it can be a soiree, rendez-vous, drinks with friends,etc. but not a party :)
The drinks & the too-much-to-drink-fixes
Guests' preferences can range from alcohol-free drinks to hardcore liquors. The trick is to see where the stuff goes – in their glass vs. in their head because that's when things can go overboard. As a host, one of your main responsibilities is – wait for it … – to hydrate your guests and keep some snack ready for when a fix needs to be applied. Nobody likes a party-pooper and stuff spilled all over the place (have seen the mother of all spillings in one of our previous parties … yuck!). Of course, after a certain hour, not even the host can be expected to be super sober. At least make sure things are handy for when people need them.
The place
The ideal situation is keeping all of this out of your own home :)) As long as you gather a significant group of people, chipping in for a party place can be quite affordable. Amsterdam offers us party boats to rent for one evening but one can also go all creative and negotiate a more special location like a small warehouse, garage, find an outdoors place where there are no neighbors to annoy or even an apartment/house in a more remote location. If the party still happens at your place, make sure you have all the necessities ready for the next-day cleaning and hope for the best :)) It does happen that one of my dear friends is quite inspiring  with regards to planning a good party – make sure you get some good speakers in there, maybe rent a smoke machine (!!!), balloons and some party accessories (masks, wigs, hats, glasses … or just set a party theme). Don't forget to butter up your neighbors otherwise the party might end sooner than you thought :)
The being 'active'  
This one is more applicable for weekend-long getaways and less for one-evening parties. A game always helps people bond when there is a game to play – take Manu's tennis for example, volleyball, football (include the girls as well, some of us can also play :)), cards, or anything else you might fancy. Even if you just take a walk together, do it mainly with people you haven't spoken to that much since you arrived :) During actual parties this might also turn into a drinking game but you didn't hear that from me.
The 'lazy' factor
Nothing compares to a nice rest and good ol' doing nothing or reading a book after a long night of partying. Give yourself also the space and opportunity to relax and recover, have a casual chat while sunbathing. Whether you're away for longer or just at a house party, give yourself little breaks to catch up on the burned energy.
I would like to end this by thanking my dearest friends Iggy and Olivier for an epic weekend. Congratulations, you made it to the blog, haha! :)) It made me think a little bit how come it turned out so awesome but of course it has to start from the hosts. Hope the rest of you reading this found some useful tips in here or, if not, at least got into the party mood. 'Til next week I'm gonna take some well deserved rest :)
Cheers,
Presi