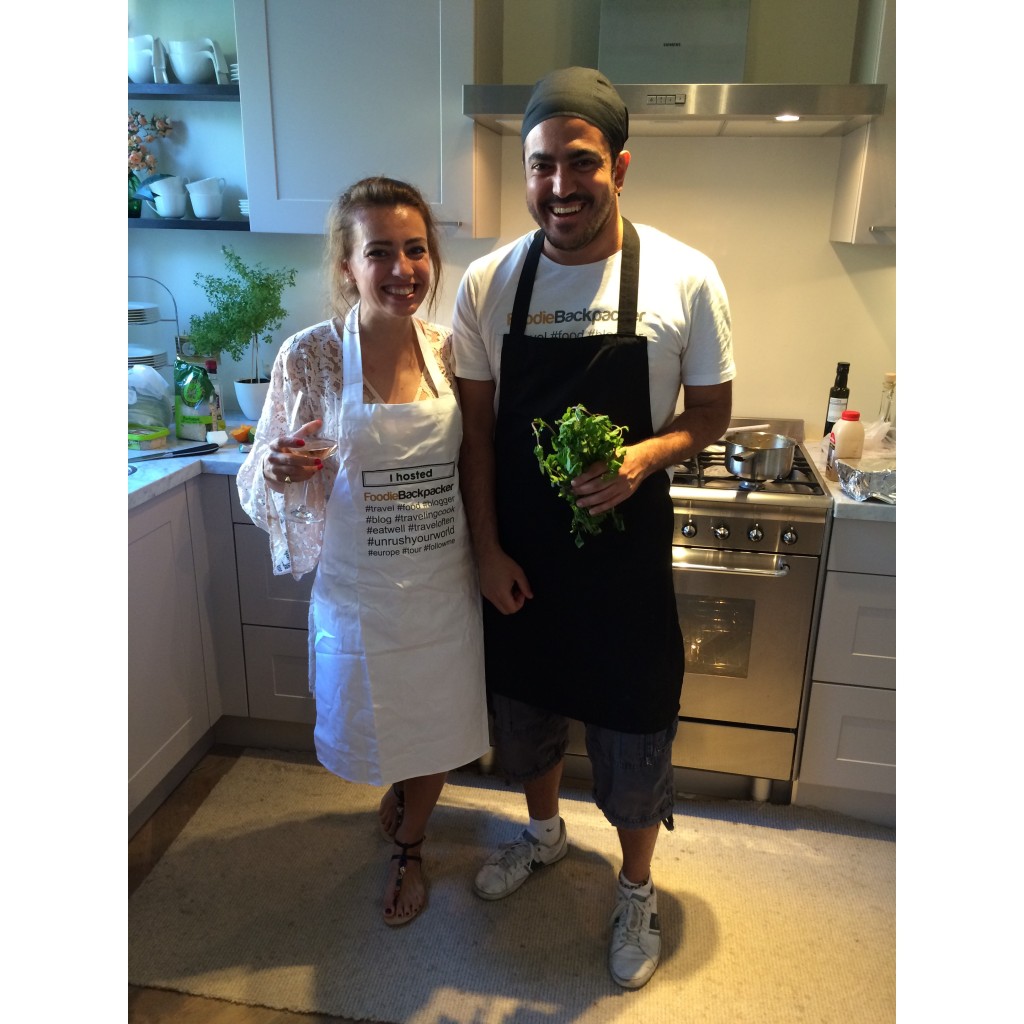 Foodiebackpacker – food, travel and friends – all in one!
---
My friends and I have always been in touch no matter how busy we get. We generally meet and try to have fun by visiting an escape room or the ammusement park. But for sometime now, after I got my new home ready, I love to invite them for food. Three days ago, I did something a bit out of the ordinary. Instead of having friends over and cooking myself, I had friends over and I invited somebody else to cook for us. It was the easiest dinner I hosted at home ;)) Our talented chef, who delighted us with a creative and delicious menu, is Derya. This is where the fun part begins:
Derya is not the usual chef who cooks your medium rare stakes at your favorite restaurant. He's a free spirited traveler and people book him to come to their homes to cook them dinner. He is the guy behind the Foodiebackpacker brand, having traveled to more than 20 countries since February 2014, when he decided to start this project. On his Facebook page, Derya constantly updates his followers with the traveling plans way in advance. Then his followers know when he'll be coming to their cities and contact Derya if they want to host a Foodiebackpacker event at their homes, inviting friends and family over. So, hosts can just sit back and enjoy the company of their friends, while Derya cooks them dinner and entertains them with his traveling stories, cooking experiences and cultural know-how. For him, this is an amazing lifestyle that allows him to so something he's passionate about – cooking – while travelling around the world, exploring new places, meeting new people and making friends.
Our event was planned in no time: we chose the day to host the event, we let Derya know how many people we would be and our food preferences (a choice of meat, seafood or vegetarian menu). Derya then sent us a price range to choose from, we decided and we were all set!
He bought all the ingredients he needed, came to the house and started cooking our surprise half vegetarian – half seafood menu we chose, while my friends and I were very eager to find out what he's going to make for us. The surprise element of not knowing exactly what you will get only makes things more fun. Derya got us started with a generous glass of Yeni Raki – Turkey's preferred anise-flavored spirit – to remind us of his Turkish origin, and then we commenced with the dishes that came one by one and soon took over the whole dining table:
Hummus
Roasted aubergine and yogurt salad
Cabbage and mint soup
Avocado and kidney beans salad
Rice pilaf with herbs and shrimps
Salmon marinated with orange juice and garlic
Roasted veggies for vegetarians
And warm creamy, sour and chili tahini halva for dessert
Needless to say we had a great time and food was amazing – otherwise, I'd probably not be writing this article ;)) So, thank you again Derya for coming and cooking for us and thanks to my girlfriend – hint, hint Karina – for telling me about Foodiepackpacker in the first place.
Considering Google Analytics is like my best friend now and Presi and I realized we have readers from all over the world and considering we "tested" Derya ourselves ;)) we thought we'd recommend him to all of you out there who'd like to host a dinner in your home countries. Derya's destinations for the rest of 2015 include: the Netherlands, UK, Greece, Austria, Germany, Thailand, Malaysia, Indonesia, Singapore, Sri Lanka, Hong Kong and Cambodia". Don't forget to keep in touch with his travelling via his Facebook page.
Dreaming of the rice pilaf with herbs and shrimps,
Manu