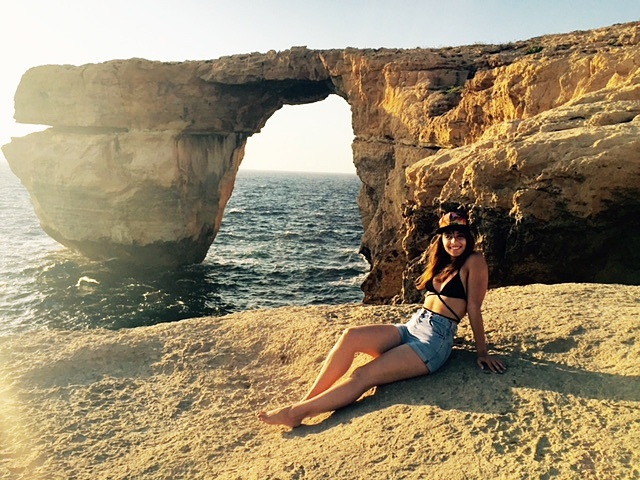 Top 7 places to see in Malta
---
Writing this small guide for you guys as I am the proud possessor of a Maltese best friend. Since things turned out so wonderfully while we were both studying in Amsterdam, I could not pass on the chance of coming to visit this small and very summerish EU nation. I am at my second visit and writing to you from here as we speak. Thought I should not be the only one benefiting from seeing this lovely place through the eyes of the locals so let's have a look at your to-do list for when you decide to come over.
Zoom in to the South of Italy, zoom in some more and some mooooore anddd … there you have it! Malta is one of the smallest nations in Europe, situated approx. 80 km South off the coast of Italy. The 3 main islands and the only inhabited ones are Malta, Gozo & Comino (population: 1 family). I prepared a checkpoint for you on each of them. The rest of the 18 islands of the Maltese archipelago you can reach if on a boat tour. For a better sailing experience I would recommend gathering your friends and going for a speed boat rental. Accompanying kids with you should pose no problem as you can even look for some kid paddleboard reviews, along with other equipment. It would give you the flexibility of seeing more of the spots you would enjoy most. If you need more details on this, I know a guy that knows a guy ;)) Not with a bigger group? Seeing the beautiful islands can also be done with organized tours of the main attractions on each island.
Since we're talking logistics, transportation around Malta is generally easiest when done by car. Even though I am one of those people that drive on the right side of the road (haha!), getting used to the British way of driving and getting a rental would be the best way to go. Costs are low and you can reach a lot more places in a short amount of time. Some of my favorite attractions at least, as you will maybe see later, are quite difficult to reach otherwise. Need directions? Apart from the classical Google Maps, do talk to locals and ask for guidance. If you decide to go for the bus, I have been strongly advised to tell you not to have big expectations from the bus schedule and just take it easy ;))
1. St Peter's Pool
I have been sold on this place during my first trip to Malta; it's one of those rocky and more wild beaches that are harder to reach; you also don't have the usual bars and terraces, for food & drinks you need to organize upfront. You will be seeking shadow under the rocks and enjoying the bright blue waters. Best thing about it? It's literally shaped as a pool just that a jump in the water will be from an exciting altitude. For those that don't have the stomach for it, you can also get into the water via ladders.
2. Gozo Island & Dwejra
Taking the ferry from the North of Malta you can arrive on Gozo – a beautiful & more rural island with a lot of places to discover. The absolute do-not-miss is Dwejra or the Azure Window as they call it. It is an impressive rock formation that can be admired from close nearby cliffs. Some of you Game of Thrones enthusiasts will also recognize the place from a different perspective ;)) Today we experienced the sunset … it might be the best time to visit! You can also go for a swim either overlooking the "window" or very close by, in a small lake that allows you to swim in caves and snorkel freely for beautiful fish.
3.  Mdina
Old capital of Malta until 1530, Mdina is a beautiful medieval citadel situated in the middle of Malta. This is one of the places to pick instead of going to the beach. Walking through Mdina is recommended in the afternoon or evening as during summer days at least it can get really hot. I found it a very charismatic place, with narrow streets and beautiful view off the fortified walls. Apart from the small terraces and bars, please drop by restaurant Sharma – combination of mediterranean, arabic and asian cuisine. Do book you table in advance and ask for a table on the terrace for a great view of Malta.
Nearby Mdina you will also find Rabat, an area that was once inside the city walls but got separated during an Arabic rule. If there's one thing I would recommend is going to Crystal Palace (Tas-Serkin) – a very small and old eatery where you can have the Maltese traditional pastizzi. I cannot attach a link to this as there is no such thing as a website for it, you will need to ask locals to get there. Open 24/7, it will serve everyone from party goers to old men having tea on the side. It is a place that got stuck in a certain point in time and that's exactly how it should remain.
4. Valletta
You cannot go to Malta without walking through the charming capital. It will offer you very picturesque sites and will be full of life during the whole day. As I have been constantly reminded by my friend, Brad Pitt has shot movies here and also did the producers of Game of Thrones ;)) Enjoy some of the terraces and bars on the Straight Street. Otherwise, I can recommend Bridge Bar for the evening but also having some nice organic lunch at Gugar, on Republic Street – very small and friendly place for those tourist-avoiders.
5.  Ghajn Tuffieha  & Golden Bay
For that nice relaxing day in the sun you were waiting for, go to these 2 beaches situated close by to one another. Snorkeling here is mandatory, you can see a great variety of sea life.
6. Comino & the Blue Lagoon
Want to see turquoise waters in a beautiful bay? Take a boat ride to Comino and spend some hours on the beautiful Blue Lagoon beach. One important note – I would do my best to find a solution that avoids the flocks of tourists as that will hinder with your experience there. Be it early in the morning or by sunset, you will have a much more relaxing time there.
7. Dingli
Aiming for the highest point in Malta, you would need to go to the cliffs of Dingli. This is a place with a breathtaking view. Some could argue that the world ends in that very spot or at least that is the impression it gives you. You won't find places for food and drinks but I would recommend packing up for a picnic instead. It's a must see and also a wonderful drive along the coast.
I will round up my plea to visit Malta with some very small tips. For those that are passionate about diving, not only will you get to see a lot of different species but you'll also be taken to some of the most beautiful places in the archipelago. For a small local bite grab a pastizzi & don't forget to try the national soda, Kinnie ;)) That being said, it's time for me to go! Sorry guys, the beach is waiting :D Hope you find this useful and will also be sharing tips of your own. For any questions please write to us on info@about-beautiful. com or simply write on our FB page.
Yours truly,
Presi