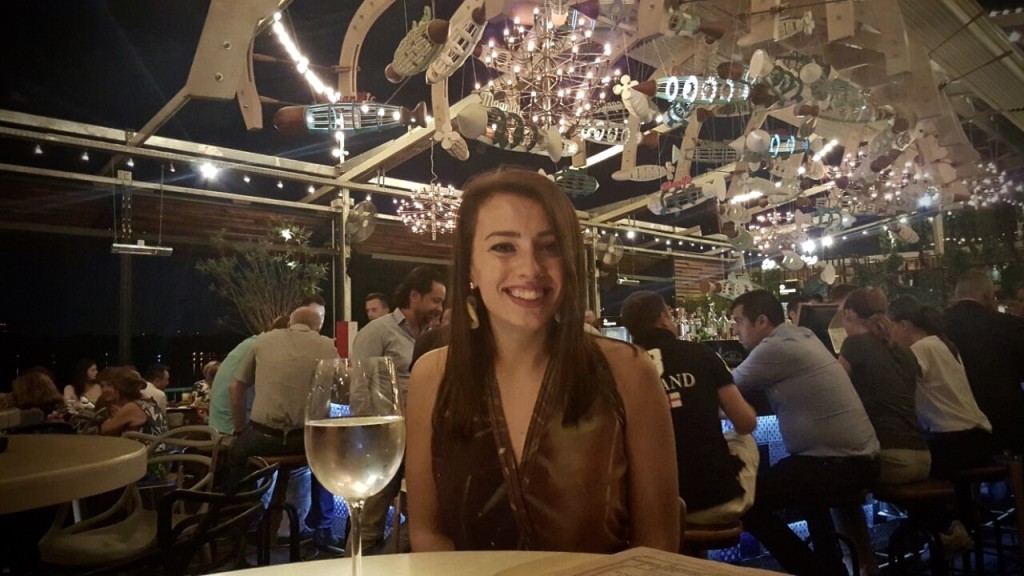 One perfect summer day in Bucharest
---
While I'm in Bucharest for one week, during the hot month of June, I decided to write an article about spending one full summer day here, the things to do, and the places to see. So, if you're planning on visiting Romania – and Bucharest – during summer, this article is for you! If this is not the case, I'm confident this article will make you consider it.
So, how does the perfect, free and sunny day look like in Bucharest?
9.30 – 10.30
You start your day with one delicious breakfast at Ad Hoc Bistro, located on one of the most beautiful and history abundant streets in Bucharest – Calea Victoriei. Everything I've tried on their menu is extremely delicious. They also pride themselves to serve unique food dishes, as a culinary emersion in Romanian old recipes and flavors. Get one of the tables outside and enjoy the beginning of a beautiful summer day in Bucharest, while trying one of Ad-Hoc's refreshing fruit lemonades, watching passers-by and getting the morning street pulse.
10.30 – 12.00
You take a walk on Calea Victorei, which is arguably the loveliest, most liveliest streets in Bucharest, depicting Inter-War architecture, among which iconic buildings and monuments, such as: Romanian Athenaeum (the concert hall and one of Bucharest's landmarks), the National Museum of Art of Romania (which I strongly recommend visiting, however, on a more gloomy day), Odeon Theatre (one of the most well-known theatres in Bucharest), Cantacuzino Palace (a beautiful Art-Nouveau building which currently hosts the George Enescu museum). Apart from the stunning architecture, Calea Victoriei is gemmed with art boutiques, high-end fashion shops, coffee shops and restaurants.
12.00 – 13.30
You then take a relaxing walk in Cișmigiu Gardens (Parcul Cișmigiu), by walking just a few blocks right from Calea Victoriei on Regina Elisabeta Boulevard. This is one of the oldest, if not the oldest parks in Bucharest, built back in the 1850's. I suggest walking around by the lake, by the endless flower rows, get yourself one of those delicious cotton candies and take a seat on a bench in the shadow, and absorb the surroundings.
13.30- 15.30
It's lunch time already. Walk your way back up on Regina Elisabeta Boulevard, in between some streets until you get to the Old Town (Centrul Vechi) and Caru' cu Bere, Bucharest's most iconic traditional Romanian food venue – not to be missed! For both lunch and dinner, it's one of the best places to eat. You have to start with a traditional Romanian soup – also called 'ciorbā'. It makes no difference which one you decide to take, they're all delicious. As a main, especially for meat lovers and for dinner time, I suggest 'ciolan românesc de porc', a generous and delicious dish that will keep you busy for a while ;)) My second main preference is 'sarmale' – one of the most well-known and delicious Romanian dishes. Round it all up with the most amazing dessert yet to taste – 'papanasi' with crème fraîche and jam. Oh, boy, this has been the hardest part to write from the whole article… It's been mouth-watering!! ;)) No worries, almost lunch time and I know where to go! :))
15.30 – 17.30
After all that food, I'd imagine you'll be talking quite a slow walk in the Old Town (Centrul Vechi). It's buzzing with terraces, boutiques, and architecture. Among the most iconic buildings to see, there are: Hanul lui Manuc, Manastirea Stavropoleos and Curtea Veche. To end your walk throughout the small streets of the Old Town, go to Carturesti Carusel, an amazing library, to feed even the most notorious and ardent reader, a place to hang out, to explore, to embrace Romanian literature, art and music, to get a book and scan it over your 5 o'clock cup of tea.
17.30 – ongoing
Take a cab and head to the terraces by the lake in Herastrau. I suggest you tell your cab driver to take you to Biutiful by the Lake (where the picture of this article was taken). You can explore a bit the terraces around before you go to Biutiful, as that part of the city is pulsing with terraces, open-air clubs, lounge areas and restaurants. At Biutiful you can not only have a delicious dinner in a lovely outdoor setting by the lake, but you can have some drinks by the bar, meet new people (Romanians are well-known for their friendliness and hospitality), and get the party going! Just the place to round up your perfect summer day in Bucharest! I wouldn't be surprised if you wanted to come to Biutiful the second day also :))
For dinners only: Before you come to Bucharest, check out if on the days you're in Bucharest the organizers of PopUp Dinner are organizing one of their monthly dinners, always in different locations around Bucharest and always with a yummy menu. It's a great way to eat great food, meet Romanian people and make friends.
Nightlife: Bucharest nightlife is probably the most exciting one I know. Even after visiting quite a lot of cities around the world, there's still none I found to top the opulent nightlife buzz and the insane parties Bucharest has to offer. Also, one of the things you need to know before visiting Bucharest is that Romanians like to dress up. They like looking their best and they make an effort… not to mention the women, who always look like they've just had a meeting with a hairstylist and a make-up artist and who're pretty well known for their great looks. Romanians don't just like to party, they start early, hanging out at a terrace with their friends, then they go to the clubs and they can even finish at 8am-10am the day after. Some of the best summer venues to go to are: El Capitan (a terrace located a bit outside the city, in Snagov), and clubs, such as: Fratelli, e3 by Entourage, Gaia Boutique Club, Control (especially popular among hipsters – I suggest having your dinner next door at Alt Shift if you plan to go there to party), Le Gaga and Player (with a pool in the middle – a plece you can go to a bit earlier during the day to work out on your tan). Even if this article is about Bucharest on a sunny day, I have to mention my favorite club in Bucharest (which is open in Bucharest all throughout the year, except during summer time, when it's open at the seaside) – Loft. Not to be missed!
Guys, it's the longest article I've ever written and I feel I haven't finished yet and I wrote a small part of what I could have. Thus, in order not to end up writing a novel instead of a blog article, I will wrap it up here with the promise to give you any details you may need before your coming to Bucharest! Just write me your questions and I'll happily answer! Also, if you live in Bucharest or you've visited it, don't hesitate to add your must-do's and must-see's in the comment boxes below!
Thinking of papanasi,
Manu