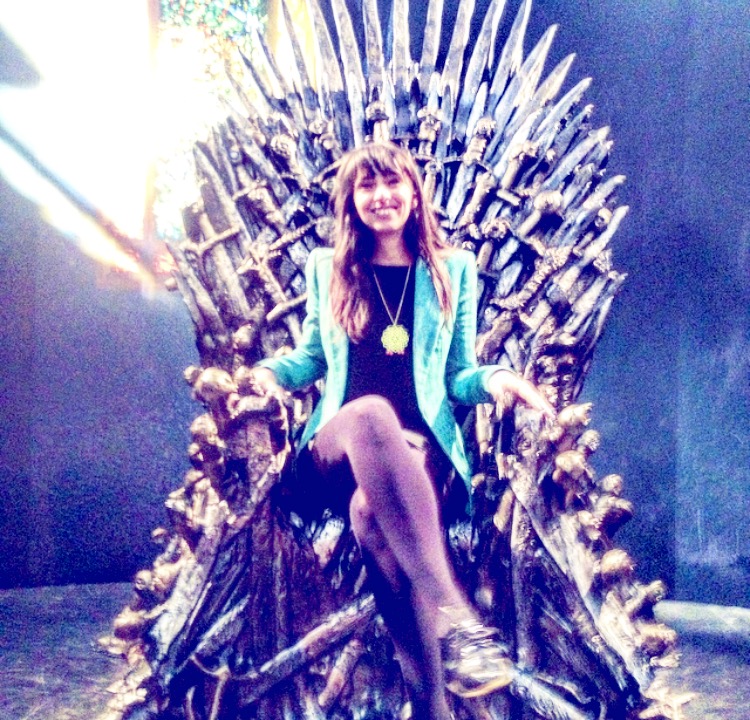 Must-watch on a rainy day: my top 5 series
---
Attention, the material you're about to read can cause time to fly by without you noticing it and can create dependency. It's also captivating and one of my favorite guilty pleasures, so take the risk and continue reading. :) Also, weather in this part of Europe requires quite often that we turn back to indoors activities. I will leave more academic ones for later because right now I want to find out what series you have been watching and get started on my top 5.
The variety of TV shows out there makes it quite difficult to restrict oneself. I have been trying to keep things decent and have the following 5 favorites to confess:
Game of Thrones
This is the absolute no. 1 and cannot be compared to anything else. I was not a huge fan of fiction-series but this goes way beyond anything I have seen before. I recommend this show for the insane level of detail and terribly smart plot. You will experience also great quality acting and getting absorbed in a fantasy world that is not always friendly and nice but will definitely keep you hooked. It can also be violent and explicit, so keep that in mind if you have a sensitive stomach. To tell you a secret, I have watched most of the episodes twice as every time you watch one you discover more details and connections between characters, you realize that things were much more complex than you initially thought.
Modern Family
This would be just the right thing to watch when you're up for something light and with short episodes. You get to follow a very mixed but hilarious family, with fresh characters and just the right amount of 'goofyness'. I find this delightfully funny and smart, made in a  very enjoyable "documentary"-like format or "mockumentary" as they call it. It addresses quite a few touchy subjects as well, such as gay marriage and immigration in the US but in such an open manner that it might loosen up a bit even those that are firmly against.  It's witty, sometimes dry-humored, clever, cute but also just the right amount of sarcastic.
Orange is the New Black
If you're looking for smart humor and breaking out from regular clichees, this is the show for you. It starts as a story of extremes – a very smart and educated lead feminine character needs to face the perks of being in prison. Even though the setup is quite unfriendly, you'll immediately forget about that once getting to know the characters – some of them, even though criminals, will seem to you as victims of circumstance, you'll end up liking them regardless of their crimes. You will also find beauty coming from the least expected places while following the pretty intense plot.
Suits
I find it a very enjoyable way of peeking into the lifestyle of the most elitist law firms in New York. I also like the humor and sassiness of most of the characters, bold and witty, throwing themselves more and more often into high-pressure situations. As a confession, this show captivated me as it is also a lesson of style for both men and women in the corporate business, have been following with a lot of envy their outfits as they have not once failed to delight me. :)
House of Cards
Last but not least, you have to watch the ultimate politics game player and acting phenomena – Kevin Spacey in the shoes of Frank Underwood. It's a story of sacrifices and manipulation, all for the sake of winning the power games at the Capitol. The nicest part about it is that the main character will confess to the 'camera' and give reasoning for his actions, he will offer insightful monologues but also inform us about his most maleficent deeds. Excellent quality acting, directing and lines, a truly intelligent show made by someone capable of working at an insane level of detail.
As the junkie that I am, I have seen all the episodes to date from the above mentioned shows. If I were to start a new show, that would probably be the much applauded Breaking Bad. The part that attracted me the most is it being described as the best free MBA course packed in a TV-show wrap. On top of that, it has an amazing 9.5(!!!) rating on IMDB. If you have a good reason against it speak now or forever hold you silence 'cause I'll start watching it. :)
Looking forward to your comments and views on the above list. Also, please do share details about other cool stuff you have been watching.
Wishing you a lovely day,
Presi