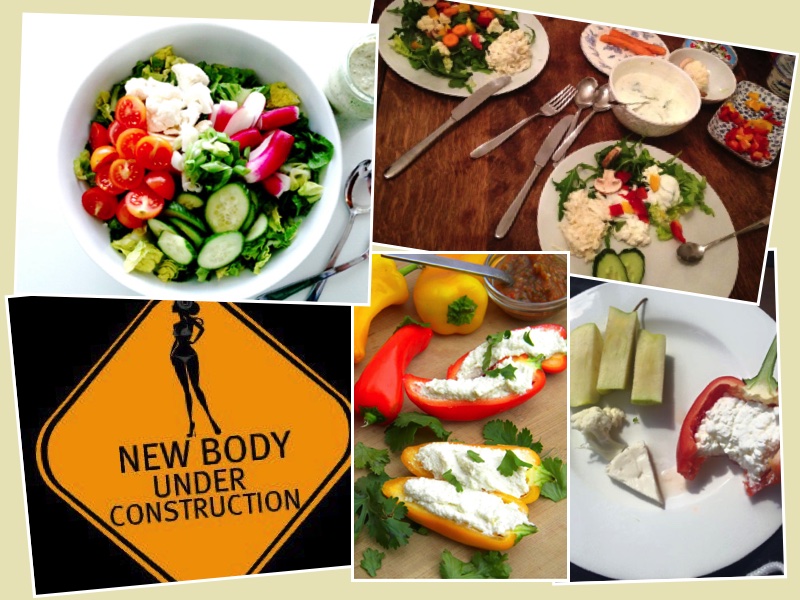 Week 1 – The Healthy Diet
---
Hi guys,
Here I am keeping up to my promise: as I said, I'll be posting the diet week-by-week every Sunday. The diet lasts six weeks. Before you start with the diet, keep in mind that this can and should be used if you are a person who's not working out a lot. If you are highly sportive, I suggest you don't follow this diet or, if you do, consult a nutritionist and add other food intake as well.
The greatest part about this diet is that you don't hunger yourself.
The first week I find as being the toughest one as it's not only low in carbs, but in protein too. During week two, this will change as you'll have plenty of protein to enjoy.
Week 1
These products can be consumed without any time limit all throughout the day:
Under 7% fat cheeses (cottage cheese, house type cheese with cream pearls cheese) and skim milk – I ate a lot of cottage cheese and La Vache qui Rit Light;
Raw vegetables: lettuce, tomato, cucumber, radish, cabbage, peppers, green pepper, hot peppers, cauliflower, broccoli, mushroom, zucchini, green beans, spinach, kale, fennel, celery, onion, garlic, asparagus , artichokes, leeks, endive, horseradish and all herbs: dill, parsley, lovage, basil, tarragon, bay, oregano. You can also have: salt, pepper, hot paprika, cinnamon, cumin, curry;
Note that during the first four days, tomatoes are not allowed.
In addition, there are allowed (per day):
1 boiled egg
200 grams apples (during the first 4 days, sweet apples and after 4 days sour apples too)
2 tablespoons of oil per day (this is only for salads and not for cooking)
½ l skimmed fresh milk
Highly recommended:
Drink plenty of fluids during the first 4 days:  water, tea, coffee.  After the first four days you can add mineral water and soft drinks (sugar-free, light). Don't forget that alcohol and fresh juices are not allowed.
After the first four days until the end of the first week the following changes occur: You can have tomatoes, vinegar, lemon, sour foods and any fat yogurt up to 7% as long as it's plain yogurt (no fruit or other supplements) and 200 g of any fruit (instead of apples – plums, pears, citrus, kiwis, watermelons, strawberries, cherries) except: pineapple, mango, bananas and grapes. Please note that dried, preserved or cooked fruit is not allowed.
Not allowed:
Any sour foods during the first 4 days
Frying oil and cooked vegetables (only raw vegetables allowed)
Sugar or honey
Natural fruit juices both without sugar or with sugar
Ketchup, mustard, mayonnaise
Attention! Drink at least 2l of liquids per day and no alcohol all throughout the diet
The happy facts:
During week two you will be allowed to eat meat: so if you're craving for it during the first week, at least you know there's something to look forward to;
The best thing about this diet is that there's no reason to hunger yourself: you can eat whenever you want as much as you want as long as you keep to the suggested categories of food;
My favourite thing to eat during week 1 is a mix of cottage cheese and dill (or parsely) stuffed into half sliced red paprikas. Yummy!
If you need additional details about losing weight, don't forget to consult – Do you want to healthily lose some kilos? – I'll tell you how! article!
Have fun and let us know how it's going,
Manu