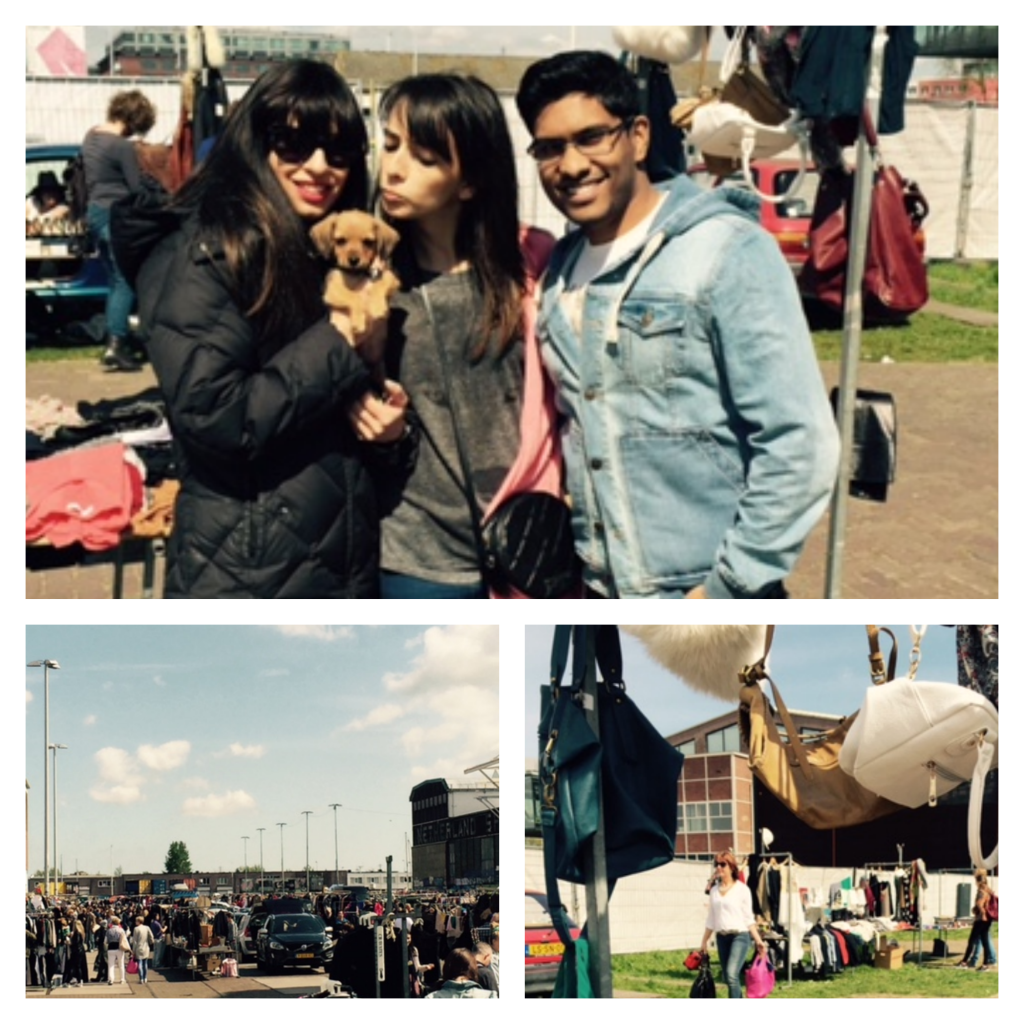 Spring cleaning & a trip to the flea market
---
Last Friday, Manu urged us to stop buying things irrationally and gave us a few tips to help with that.  But what if it's a bit too late and we had already managed to gather a significant pile of stuff we are no longer using? What is a quick and effective way of cleaning up our shopping spree mess? One thing I noticed while living in the Netherlands is that flea markets are quite popular. In front of your house for King's Day or in specialized market places, they could be the fix to your problem.
A good way to get started is identifying the stuff you no longer need or want. It would be great to have a small moment of honesty and stop picturing scenarios when you miiiiiiight need that old bag. You and I both know it's not gonna' happen. Search for closets and storage rooms and take out all the junk + clothes and shoes you're not wearing anymore. After a firm filtering process, you can divide the items into "Donate",  "Share with friends" and "Sell".
For the first and second category, things are quite easy – most churches and Red Cross facilities accept packages with clothes and shoes and will handle your donation moving forward. On the other hand, maybe some of your things would definitely look nice on some of your friends – give a few well-placed gifts, make a nice evening out of it.
For those other things that are not quite suitable for charity or you just cannot give away given the initial investment, there are a few quick solutions:
Facebook groups – lots of people buy and sell through social media, upload a few photos of your items and get rid of them before you know it.
Online market places – similar to eBay, Amazon – whatever makes more sense logistics-wise for you.
Second hand stores.
Flea Markets.
The latter I had never been to before moving to the Netherlands. I grew up in an environment where such a place gets, for some reason, a negative connotation. My view changed recently, especially seeing how things get organized in Amsterdam. On King's day for example, Dutch kids would step out in front of their houses and sell passers-by their old toys. None of the toys gets sold without a proper explanation and story about the toy's journey. You also need to negotiate and convince the kid to give you a good deal. I found this whole process not only severely cute but also as great entrepreneurial development from a very young age :)
Another thing on my mind was that, for some people, it makes a world of a difference to find an item they really like at the flea market, at a fantastic price. In some cases people would not accept getting things for free or maybe they simply enjoy the bargaining process that leads up to the purchase. Some are simply in for the conversation.  It's also about the fact that it's a win-win type of situation – not only you clear things up for yourself but you also avoid creating waste, you contribute to circulating goods and sustainability.
The most popular misconception is that flea markets are piles of dirty and broken stuff. Truth be told, sometimes they are. And yet some of the times they are organized in awesome locations, have other purposes as well such as fund raising and aid programs for different causes. Sometimes you have merchants with perfectly new stock that they need to get rid of. From what I read about some flea markets in Amsterdam but also by talking to people when visiting the Ij-Hallen, some of the merchants have started successful retail businesses in such places. It all depends on how you look at things and on trying to find the upside.
Summing up, I am trying to encourage you guys to do one neat spring cleaning and look at ways to facilitate that. From my own experience I can say that such an activity helps you appreciate more what you have. In some cases, we try to find excuses for keeping some of our things unnecessarily. For some others though, we might realize last moment why we liked them so much in the first place. At the end of it all, it just feels really nice not to have any clutter. It will give a new fresh feeling to your house. If you don't believe me, you can always check with Mr. Feng-Shui.
Spring cleaning,
Presi