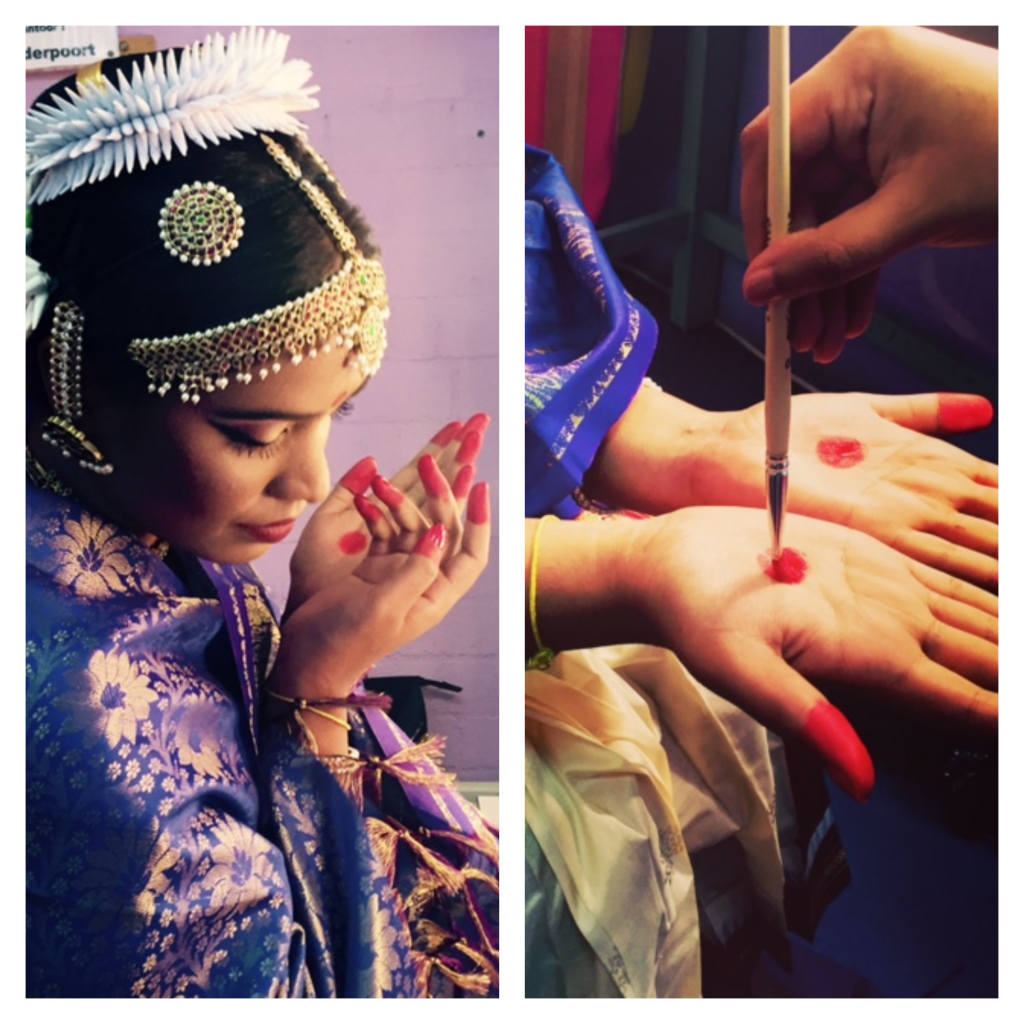 Arangetram: a South-Indian dancer's debut
---
Last Saturday brought me both a wonderful artistic performance and an important milestone for a dear friend. Warsha has been dancing the South-Indian dance of Bharata Natyam for 15 years and has reached the point where her formal education is now complete. The exam which crowns completing her dancing education is known as the Arangetram and defines the solo debut of a Bharata Natyam dancer. It was a great evening and a great opportunity for me to walk you through the secrets of an old South-Indian art.
Bharata Natyam, links together the Tamil words for expression ("Bhava" – Bha ), melody ("Raagam" – Ra) and rhytm ("Ta") in a dance form ("Natyam"). It is a very powerful way of telling a story, combining hand gestures, footwork, head and eye movements. The most important of all is the emotion the dancer transmits to the audience, making it a soft form of acting. The story is being told through the means of Abhinaya which means expression. The roots of Bharata Natyam can be found in South-Indian temples, as it was initially performed by Hindu female worshipers as odes to the Gods.
The musicians accompanying the dance offered an amazing show. Bharata Natyam will always be accompanied by a singer (Uma Ramesh), a Mridangam drum player (Prashant Pravanatham) and a Nattuvangam player (in this case Satishkoemar Myre-Makhan, Warsha's dance guru) – these instruments give the dancer the rhythm and also guide her/him through the story. Additionally, on Saturday we had the honor of listening to one of the 10 musicians worldwide that can play a double-10 string-violin – Neyveli S. Radhakrishna.  The musical performance was outstanding as we were guided through the 6 parts of the repertoire.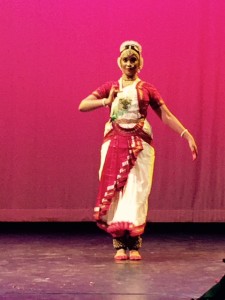 While this must already be quite a volume of new information, I'll focus more on my personal view of it. I'll just say that I have watched the whole 1-hour dance with my jaw dropped. And I'm not being subjective. Couldn't stop admiring Warsha, the beauty of the costume and all the accessories that she was wearing. She looked stunning. As someone that has danced and learned choreographies for quite some years, I found it extremely complex and difficult to learn. You need a great deal of coordination for a good sync of all the different parts – fingers, feet, facial expressions, head movements and follow the music on 8-counts. It was also a very emotional evening as the bond between pupil and guru reached a peak – a guru is not only a teacher but also a spiritual guide and in this case a good friend.
My role extended a bit outside of being only a spectator – that is how I could see the amount of preparation needed for the Arangetram – clothing, makeup, accessories, countless hours of practicing, strength training, stretching, going through the scripts. Just to have an idea, Bharata Natyam solo performances last for at least an hour – significant effort and physical strain.
I hope I made you at least a little bit curios, checking further for videos of similar dance performances, looking more into the history of the dance and the many forms that it has. Also, this is not something that is religion-dependent, anybody can give it a try. I see it as a beautiful way of expressing oneself, an opportunity to dive into a different culture. If any of you is interested, Satish has beginners' lessons every Sunday afternoon in Amsterdam ;)) If in the Netherlands, I would also recommend the India Dance Festival that happens for two weeks yearly around October, in Den Hague. Will wrap this up now hoping to have triggered your interest in a whole new direction. Congrats again, Warsha, I am really proud of you! ;))
Namaste,
Presi