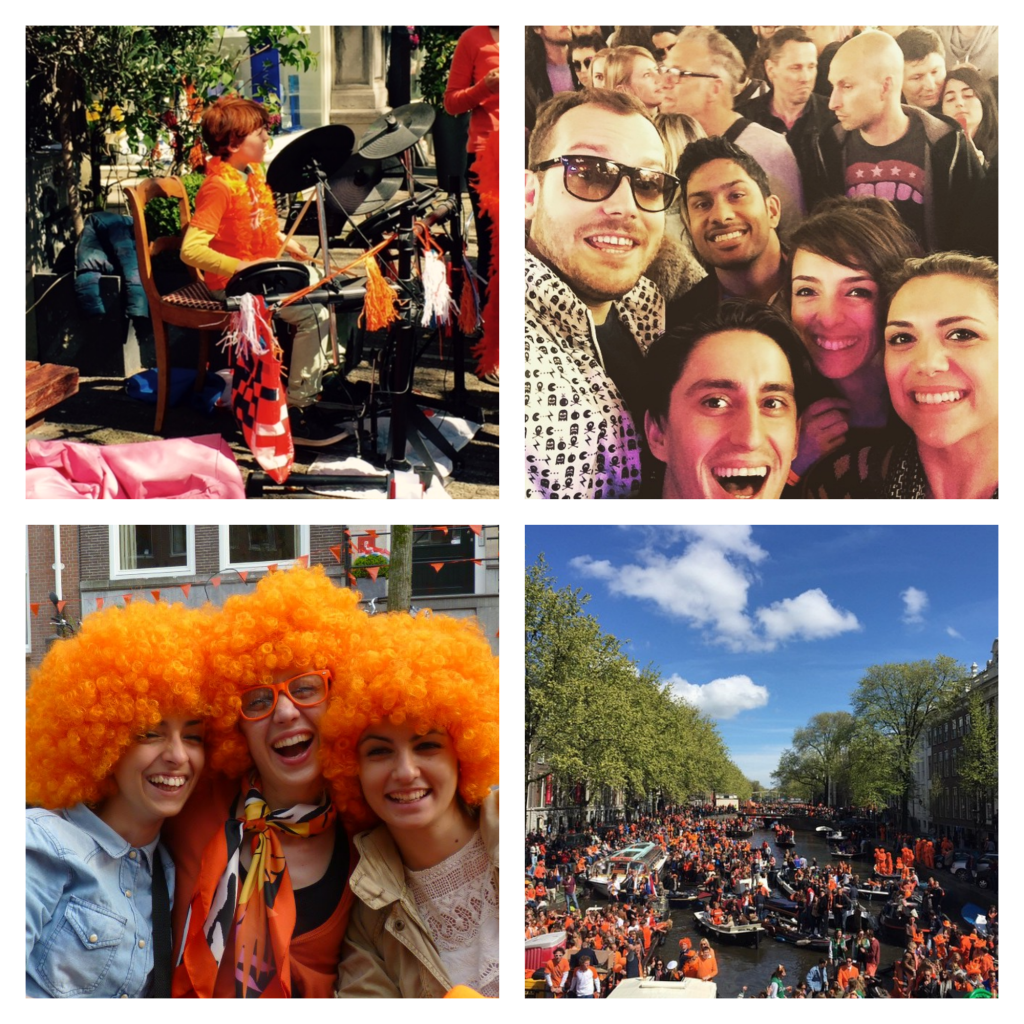 Do-not-miss street party – Amsterdam on King's Day
---
If there's one person on this planet that has one hell of a birthday, that would definitely be Willem-Alexander – king of the Netherlands. If you're planning on visiting Amsterdam, do come by during this time of the year – this is one party you don't want to miss. Plus, in one way or the other, the weather is always nice and sunny on King's day. I suspect the Dutch are doing something fishy to the clouds, it's impossible to have such great weather each and every King's day!! I have a bunch of conspiracy theory ideas about it but let's address that privately 
You start on the 26th of April with King's night when lots of parties are organized, both in the city center and more massive ones in the outskirts. On the 27th of April, whether you're a Dutch national, an expat or a tourist, you put on the nearest orange accessory and start wondering the streets or maybe hop on a boat and enjoy Amsterdam while cruising the canals. Each of these options has a charm of its' own and needs to be experienced sooner or later. The next day, on the 28th of April, comes the cruel time of going back to the office, usually followed by the common expressions of "What have I done" or "I will never drink again" 
I forgot to mention that the party is nation-wide, not only in Amsterdam. Dutchies in the whole country are celebrating their king and doing a great job at it – from young to old, from tall to …well, tall
. I think that is what I like the most about King's day – you can sense a great feeling of national pride, a whole country united and full of positive vibes.
Here are a few great things you can expect to find in Amsterdam on King's day:
canals packed with party-boats, brightly decorated, each running their own show
general flee market – Amsterdam becomes one big open bazaar as people sell either new merchandise or their own stuff as second-hand; great opportunity to practice your bargaining skills
awesome street food
drinks to buy at every corner
live music, lots of stages from place to place, different themes and music genres
street performances – from young to old, everyone can make a few bucks and show their best skills :)
hugs & smiles – either for free or for 50 cents a piece
crazy costumes
lively parks, picnics & BBQs
board games & old Dutch bar games like Sjoelbak
everyone will be wearing something orange and so should you 
This could be one of the best things you can experience in the Netherlands so if you're making plans of visiting, make them around this date. If you want to spend the day on a party boat, make sure you book your spot in advance and pack up some serious orange accessories. For those of you that were here yesterday, I hope you had a great time and are now having an acceptable Tuesday :)) Would love to hear some more tips & tricks about what to do on King's day and also which places in Amsterdam you enjoyed the most.
Yours truly,
Presi