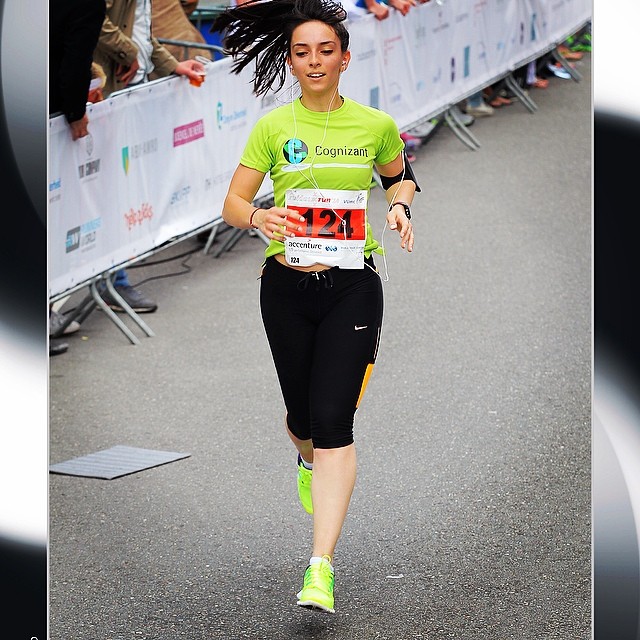 Preparing for the corporate run
---
De Zuidas Run
Together with a significant number of my dear work colleagues, I am taking part for the 3rd year in a row in the Zuidas run, welcoming companies from all professional backgrounds to subscribe their most sportsy employees for a very exciting outdoors event. You run in teams and can choose between the short 4 miles-version or  the longer 10 miles-version. As the pseudo-runner that I am, I  signed up for the shorter version and am very proud of it :)
There's a great feeling to this event, mostly because it helps raise funds for children on two plans – medical research and better education. I am not the biggest fan of long-distance running, mostly because it provides a different type of muscle development from what I am looking for.  Even so, I wouldn't miss this event! It's great to be surrounded by so many of your colleagues and be a team on a different kind of business field :) We could be more, I am still working on the more stubborn ones. I also enjoy a silly little victory whenever I outrun a member of a competitor's team. I am coming for them soon
Running 101
There are a few things to keep in mind when running long distance:
Stay hydrated – during the run, don't miss any of those water supply points
Watch your technique – this is a critical one. Quite a high number of people run with sloppy technique. Doesn't seem like it in the beginning but you're actually harming your joints and knees. Found a link that could help, have a quick look at how your posture should look like. Even though we are born with the correct running technique(see any nearby 5-year old running), we somehow manage to lose it towards adulthood. It takes a lot of discipline to keep a correct posture, self-checks and awareness every step of the way.
Watch your shoes, run with them a bit before your race; a bad shoe will create lots of trouble along the way, mess up what we discussed in the previous point.
Check your pulse – this is no laughing matter, have a heart tracker with you. As mentioned in the Home Gym Chronicles, a Polar watch+chest band could do the trick. There are all sorts of calculators for what your max heart rate should be. Use one of them but reduce your limit by 10-20 just to be sure.
Prepare an awesome and energy boosting playlist! (Can't hold us down is currently among my favorites :P)
My Plan for Zuidas 2015
I have time 'til the 21st of June to prepare, 8 full weeks – no need of running the full distance, exhausting myself and my joints, the plan is to train pace but equally speed;  A very important ability is that of generating explosive muscle power, otherwise your results will decline and your running efficiency will drop (our body gets used to the same pattern of effort).
week 1 & 2 -> run two times 4 km/week + sprints (30 sec full speed, 2 minutes rest x 5 times)
week 3 & 4 -> run two times 4 km/week + sprints – goal is to obtain better timing, small progress on top of weeks 1 & 2 results
week 5 & 6 -> run two times 5 km/week + sprints
week 7 -> run two times 5km & strive for better timing than in weeks 3 & 4
week 8 -> run once 6km and rest
This is the first time I do have a training plan for my run so I am really curious what this experiment will bring. Last year I managed the 4 miles (6.7 km) in about not-that-impressive 40 minutes. Let's see what we can do this time :P
Little Extra – Snacks Before Running
Stick with a low-fiber, low-fat meal or snack one hour before the workout.  If you can't stand anything solid shortly before your run, you can try a sports drink, or a smoothie. This needs to be kept at snack-level (200 to 400 calories). Here are a few ideas:
1 banana + 1 tablespoon of peanut butter
1 wholegrain bagel with honey
½ cup oats with skim milk + 1 cup of sliced strawberries
Pretzel with 30 g hummus
Will be posting some training updates on Instagram, now that I made all of you part of this I will be feeling the pressure
 I would love to get some more tips from your running experiences & a big poke if you'll be joining the Zuidas event
 Would be great to see you there!
Feeling excited,
Presi