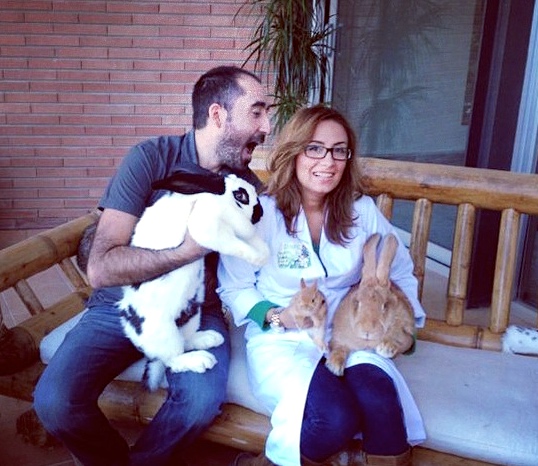 Easter comes with… the Easter bunny
---
Easter's coming!!! Surprise-surprise! Ok, I know, there's no newsflash about that… And I'm sure you've already taken notice of the heavily decorated shops and interiors with 'Eastery' things… ranging from sheep, hens, coloured eggs, running around lambs and… Easter bunnies.
This brings me to my subject for today's article, which has a lot to do with bunnies… I thought there's no better moment to explore the whole 'new' world of bunnies than in the days approaching Easter. Thus, I contacted my dear friend, Emi, who works at Cunipic – the largest pet breeder in Europe, which is also internationally known for its premium pet food. I asked Emi everything I wanted to know about her job and about bunnies… and here's what I found out:
Manu: What do you do at Cunipic?
Emi: That's my favorite question :)) My main job is graphic designer, but my tasks go further and that's where the fun part begins… We created a Youtube Channel dedicated to pet owners and veterinarians called ¨El cómo y el porqué de mi mascota", which has gained more than 60.000 followers so far. The fun part about it is that I am also presenting the Youtube episodes and I do this together with our exotic animal expert and veterinarian, Antonio Rodriguez… in the picture above ;)
Manu: What's the best 'part' of your job?
Emi: And that´s my second favorite question :))) The best part of my job is being in contact with animals. I've always loved animals, so now I feel like I managed to somehow mix my two passions – art and nature – into something that gives me great satisfaction. And since a part of my job is teaching people to care for their pets, I almost feel like I´m saving the world – one pet at a time :)
Manu: How's the market for bunnies going and what do people look for when deciding to get a bunny? 
Emi: We see a huge growth in demand for bunnies, since people own smaller houses and have less and less space to offer to a pet family member. Bunnies are not as ¨needy¨ as dogs can be and are perfect pets for modern families with full-time jobs, children and long to-do lists. These families are usually looking for a pet that can accommodate to their schedules, that is easy to maintain and that can offer the whole ¨pet experience¨ to their children… teaching them empathy, kindness and responsibility. Bunnies make perfect pets, as they are incredibly aware, smart and playful animals.
Manu: How many types of bunnies are there?
Emi: Oh, there are so many bunny types that we could talk until Easter 2016 about it, but maybe the most exotic ones are the Teddy – a new breed we have created which is basically a bunny with small round ears – the Toy and the SuperToy bunnies, which are the tiniest bunnies of them all, very small in size and extra cute in appearance.
Manu: When you get a bunny, how do you make sure your bunny's happy? ;) 
Emi: There's no perfect time to have a bunny, you can always have one if you need a pet in your life, but you have to make sure you can offer him a great life too. You can do that by learning a few things about them and about their needs. Every Cunipic bunny, for example, comes with a First Pack – a box full of goodies, books and leaflets that will take your experience of meeting your new pet to another level.
Manu: Is there anything we haven't covered and you'd like to add? 
Emi: Yes… a few general ideas: Bunnies live up to 8 years, are true friends and companions to children and can get along perfectly with other pets.  Pets are a very important part of our lives – or at least to the majority of people – and changing the way we see animals is a key factor for our future, since animals have always been with us throughout our past. I am happy to be part of this great project, it feels more than gratifying and hopefully soon enough all animals will be treated with respect, kindness and appreciation.
I feel Emi's helped me cover up most important aspects regarding bunnies. If you want to have your very own pet or if you have questions regarding your pet, now you know who to ask ;) and maybe the Easter bunny will bring you… an Easter bunny ;)… As expected, I will end this article with a celebratory…
"Happy Easter!"
Manu