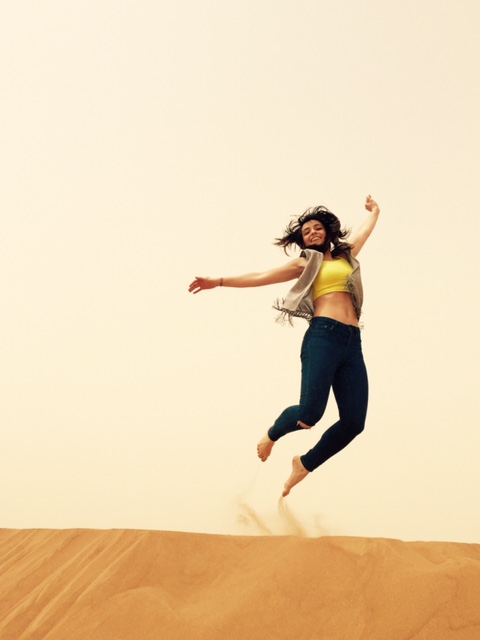 Dubai the sequel – my fresh highlights
---
I landed in Dubai looking for an awesome time with my girlfriends but slightly worried about the boiling situation in the Middle East. Not that the UAE falls within the risky area but I was aware, in the back of my head, that serious conflicts are geographically close. I found in Dubai an incredibly safe environment, internationally minded, open to all cultures and types of visitors. It shines and amazes mostly through the magnitude of what has been built and the pace of the whole construction process. If you don't believe me, step next to the Burj Khalifa and look up (this is the part where your neck cracks). Then look around. Then imagine that 30 years ago everything around was only desert.
Off the top of my head, I wanted to bring you a few highlights. Hope you'll find them useful in one way or the other in your future Dubai-related plans. :)
Experiences Not to Miss
Sand Dunes Crazy Drifting
Awesome, awesome, awesome. Cannot stress enough how cool this experience is. Through the hotel, we arranged our desert safari with Desert Gate. If you're interested, ask for the one and only Hassan (originally from Morocco). He will spin that car all over the dunes (now I know what Tom Cruise went through in the last Mission Impossible), sing to you on the way, explain about local customs and take multi-burst jumpy pictures for you. Moreover, if camels decide to randomly cross the highway in front of you, he'll put the window down to talk to them and call them "habibi" :))
Madinat Jumeirah
One of the nicest places to spend an arabic-flavoured night. This is a beautiful complex built in the shape of an arabic fort. It hosts great restaurants, terraces, bars and clubs, a bazaar and two exquisite hotels with a view towards the famous Burj Al Arab hotel. Great atmosphere and the perfect place to smoke a "shisha" on big puffy pillows, in a truly oriental setup.
Bargaining in the Bazaar
In a strange way this can be quite fun. You need to hold on tight to your price and not show your weaknesses :)) Remember, these people have seen a lot of customers like you and can smell when you soften up. After our fair share of bargaining, me and my girlfriends quickly checked our purchases in a different shop. Ahhhh, the sweet taste of having paid 1 third of that price :)) 
Drive on the Palm-Shaped Artificial Island, Preferably at Night
The construction is called Palm Jumeirah and is the world's largest artificial island. On its edge (crown of the tree) you can enjoy the wonderful Dubai skyline from afar – now that's a postcard view…
Dubai – Food For Thought
I found an incredible openness towards foreigners and

 

what seems to be a

 

very broad expat community; the business potential that you can find there is amazing – Dubai is developing in all directions, be it hospitality, IT, finance or construction. On top of that, the very low/inexistent taxes and excellent facilities you are offered for opening a business have a big say in considering Dubai as a potential business destination.

It's an oasis of Western freedom, going hand in hand with local traditions – as long as everyone (and here I am referring to non-golf residents) is keeping decency in mind when behaving in public and putting on clothes, everything blends very well together.

The history of Dubai since the UAE became independent (1971) – this is something worth browsing, looking at the speed of its development and the vision of the sheikhs – they have been keeping their heritage alive but also adapting to the advancements and trends of modern societies.

The leaders take great care of their people – Dubai and the UAE for that matter are a great example of a government/ leaders that have the well being of the local (Emirati) population at heart; this should be used as an example of caring for your people and making sure they have everything they need;
As the plane just took off, I wasted no more time and wrote today's post while everything is still fresh. Hope this anti-plane-anxiety red wine has helped me give you a pretty good idea of some of the things Dubai has to offer. Together with Manu's post, we hope to have offered you a small feel of this very colorful emirate . To tell you a small secret, I will be focusing on researching the business side of things, it is quite amazing how Dubai has developed and how many opportunities reside on that side of the Indian Ocean. Will keep you posted, hoping to get back there soon.
In-flight writing,
Presi