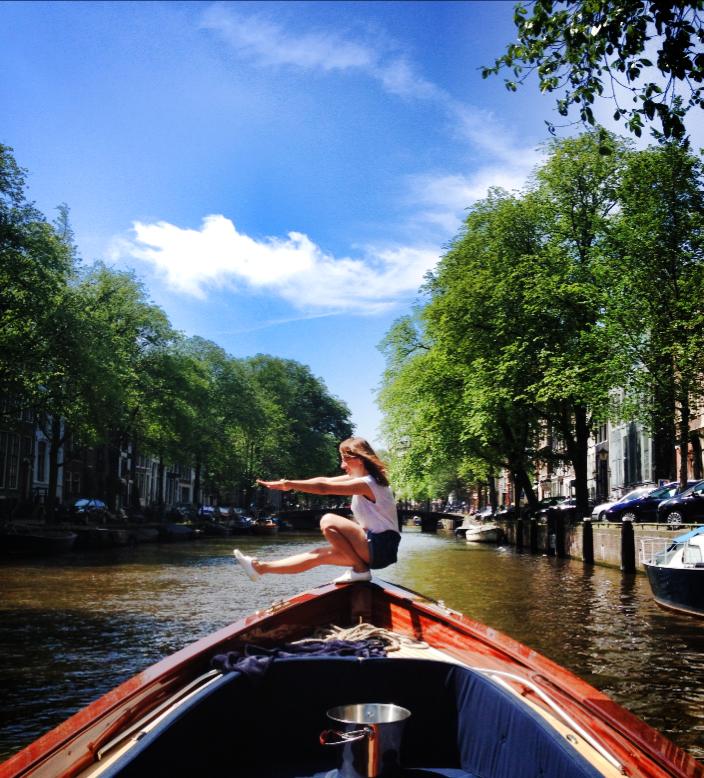 Amsterdam on a sunny day – top 5 things to do
---
Inspired by an unexpectedly warm weather this Wednesday, I thought about writing an article sharing my top 5 things to do on a sunny day in Amsterdam. Presi and I have jammed our Travel section with various places to visit, things to do when visiting various countries, however we sometimes forget that Amsterdam updates are just as relevant, especially for the tourists and the city newbies.
Our city is great all throughout the year, however it can be truly fascinating when there's warm, sunny weather. Dutch people don't take sun for granted, I'll tell you that! So, they'll make the most of it! Even more so, the first warm days of spring can create a real buzz – the city is livelier than ever before, terraces are packed, parks are immensely crowded, people sit on their balconies, streets are clogged with speeding bikers and, most probably, offices are 'half' empty… I know my girlfriend – Jo – and I played hooky for a couple of hours around lunchtime last Wednesday to lie in the sun.
Thus, to celebrate spring, I've diligently put together a list of my top 5 things to do on a sunny day in Amsterdam:
Take a boat ride
Amsterdam can be exciting when taking a walk, but nothing can top experiencing it while being on a boat (don't forget to pistol squat!!:))). While most tourists would queue behind boat tour ticket vendors, if you're here for a visit, I find the best solution is to rent a boat. Then you can pack your finger food and drinks and follow your own itinerary. Moor at Hanneke's Boom for a lively outdoor get together, at Amstel Hotel for a high tea, or at Loetje aan de Amstel for a good steak.
Picnic in Vondelpark
Chances are that on a sunny day Vondelpark will be packed. It's Amsterdam's most vibrant park and there's no wonder everyone wants a piece of it. Also, it's a great place to gather all your friends and enjoy an outdoor day on the grass, sipping on your glass of rosé. Other cool things to do in Vondelpark on a sunny day include having lunch on the terrace at Vondepark3 and following the Vondelpark outdoor yoga class of Absolute Yoga.
Walk in the Jordan and shop on de 9 Straatjes
If you've scheduled a shopping day and you don't want to compromise on that… (who would?! ;), it makes sense that you don't want to be in a mall all day and miss out on the sun. While there are plenty of places around the city to shop for the common brands, you might want to check out de 9 Straatjes (the 9 Streets) though. De 9 Straatjes reside is the most vibrant areas of Old Amsterdam, called Jordan, and cross 4 of Amsterdam's most largest and charming canals – Singel, Herengracht, Keizersgracht and Prinsengracht. The boutiques here will surely feed your yearning for a more unique shopping adventure.
Go to the market
Saturdays I love going to the market. I find it great on a sunny day. For both locals and visitors, the Saturday markets are just perfect. Two of my favorites are zuiderMRKT (the fact that it's on my street is a big bonus ;)) and Noordermarkt. While zuiderMRKT is smaller and more gezellig (Dutch word for cozy), Noordermarkt is much bigger and varied. Both markets have have loads of organic products and accommodate small tables and chairs where you can sit and eat some tasty farmers' products.
Spend a lazy day on a terrace with your friends
While this is something you can do in other cities, I somehow enjoy more sitting on a terrace in Amsterdam than on other parts of the world I've been to. It might have to do with people's love for sun in a city that's not very sun-spoiled or with the fact that summer nights can even go as late as 11pm until it's dark. Whatever it is, I love it! One lazy Sunday spent with friends on a nice terrace has squeezed itself in my top. Except the ones I've already mentioned throughout this article, here are my favorite terraces to consider going to: Le Pain Quotidien Oud Zuid (open until 5pm, but always sunny), George W.P.A. and De Ysbreeker. It's usually hard to find a table on a sunny day, so get armed with a pinch of patience on your way there.
This is where I wrap it up! I hope the information is useful and interesting. If you visited Amsterdam or live here, what are your favorite things to do on a sunny day? And if you're about to visit for the first time, let me know your inquiries and I will gladly answer…
Enjoying sunny Amsterdam days,
Manu