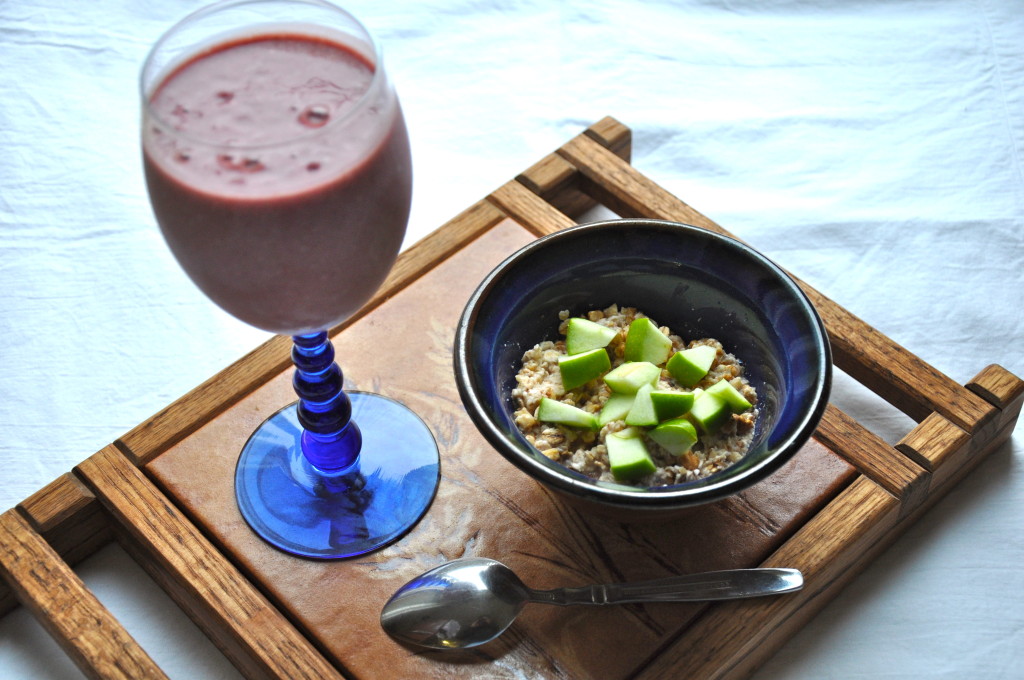 Quick look inside today's lunchbox
---
Some weeks ago we were discussing healthy eating habits in 5 Reasons Why Your Diet is Not Working. Wrote my best tips & tricks in there and tried to emphasize methods that have been working for me.  I am definitely not a fan of dieting, find it a load of unhealthy bogus. I am a fan of eating (mnom mnom mnom) but eating right + the unavoidable, omnipresent workout schedule. To make this picture more concrete, we're keeping today's post really practical: we will be working our way to a sample set of meals. Here's example no. 1 :)
Breakfast is usually a mix and match solution, for practical reasons. At least in my case, I am on the lookout for a nutritious and super fast meal so I can have some time left to enjoy a Time magazine article on the side
:
25 g muesli – aprox. 120 kcal -> choosing from a variation of muesli wholegrain, with dried fruits, with nuts & honey, etc
25 g seeds, dried fruit & nuts mix –  aprox. 100 kcal
250 g turkish yoghurt, 8% fat – aprox. 150 kcal
1 fruit, half melon, 300 g – aprox. 140 kcal
Total: 510 kcal
For lunch, proudly cooked in the morning before work, one of Jamie's many delicious salad recipes. Some of you might be tired by now of my obsession with Jamie Oliver's recipes – simple, great combinations, never look pretty but compensate through taste :)
Blackened chicken salad – usually I personalize recipes and adjust quantities in order to reduce the number of calories
Total: 550 kcal
Today's choice of snacks:
Peanut butter protein bar – 210 kcal
Unsweetened coffee – no calories to take into account
Tea – no calories there either
Total: 210 kcal
Dinner came with the recurring challenge of eating well when eating out. Not that this is something to always be concerned about when choosing for a restaurant, but if you do eat out a lot, save heavy stuff for your 'cheat day' and pick more carefully during the rest of the week. The concern is mostly about not knowing what is served and how much fat has been used for cooking. Today's choice at the wonderful Canvas rooftop restaurant:
Oven-baked dorada with herbs – portion aprox. 300 kcal
black quinoa, 30 g – aprox. 50 kcal
grill vegetable mix  – aprox. 50 kcal
Total: 400 kcal
Ended today with an intake of about 1670 kcal, rounding up to 1700 kcal. My fitness monitor tells me that I have burned passively + walking + biking to the office around 1460 kcal. On top of that, today's workout has helped me burn 330 kcal.  This leads me to a tie so to say, categorizing today's overview in the weight maintenance area :)
Notes:
* Weigh your food & go for the information on the package – round the numbers up to be sure you don't undercalculate :)
* Recommendation for balancing nutrients: have carbs mostly during the morning, when you need energy to start your day; decrease carbs over lunch and try to avoid them during dinner time. The opposite is recommended for proteins, they would need to increase in percentage over the day.
Looking forward to your feedback on this post format, waiting for the green light on turning this into a standalone category  :) The main idea would be to make things easier for you when choosing your meals for the day. All that needs to be done is adjusting the sizes and weights to your calorie necessities. Bon appetit!
Keeping you on track,
Presi