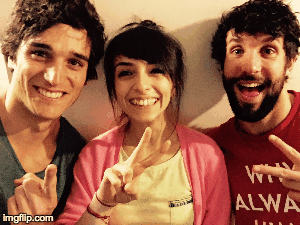 Circul'R Economy – soon… coming to your town
---
Manu and I have been contemplating for a while starting a post category about beautiful people – we wanna' hear great stories, get inspired from what they have to share. We already had a shortlist, a colored group of brilliant individuals. Just when we were about to pick our first victim, I ran into today's subjects – two pure breed French gentlemen out on an important mission. Their goal is to raise awareness on sustainability and the benefits of a circular economy. They started an awesome initiative – the Circul'R project. Therefore, it was with great envy that I decided to sit down and write about it to share it with you guys.
Enter Raphael and Jules
Our subjects were working in sunny Mexico for the same aerospace giant Airbus. While discovering common interests in the sustainability and waste prevention areas, discussions led towards starting a project on their own. Primary research on how companies address these issues happened initially in Mexico. The point was to find companies with projects on reinventing waste and using it as a resource. Then they started calling back to France, looking for partners that could be interested in an initiative in that sense. The turn towards circular economy happened when they found their first partner – Institut de l'Economie Circulaire. Many more followed after that … having a look at their current list I can only say hats-off! Pretty strong team you got there :)
The Idea
What is Circul'R all about? A 17-month trip across 22 countries, meeting 5 companies per country and assessing their circular economy programs and ideas. They start by identifying, with the help of their existent partners, 2 main companies in the country they are about to visit – starting point is within companies with a mature sustainability program. Once the local network is reached, they move on to smaller companies  with great ideas behind. There are 3 main principles followed here: identify, raise awareness and connect. The ultimate aim is to help in maturing sustainability programs in the visited countries and to connect people for the greater purpose. The target group is not only in the business area but expands all the way to consumers and clients, making a truly meaningful impact.
Timeline
Once the idea got some shape, they quit their jobs and went for it full speed :) They started a non-profit association in France, in September 2014. From then and until February this year they presented their project idea to companies and French entrepreneurs with interests in circular economy.  They acquired a network of funding partners & supporters and prepared a kick-off event in London this month, as part of the Resource event 2015.  After that, they were off to Belgium and now, here they are, setting foot in the Netherlands :) Another great point is that they are also partnering with universities and organizing events for students. Addressing the younger generation narrows a bit of an important information gap. People of all ages need to know how to act on a personal level, companies also do their part of the work towards a greener planet.
Where to?
After completing this amazing adventure, the guys are looking at a few options – maybe starting a company that specializes in circular economy consultancy, maybe some extra smaller trips in areas that are outside the current roadmap (hint hint … Eastern Europe?
) … Whatever it is that they'll be doing, I am sure they'll do a great job at it. Wishing you the best of luck and … we'll be following :)
Found this project a great example of a "so-much-win" situation. It's simply a great way of working towards a very noble cause while traveling the world and having loads of fun on the side. Awesome social aspect to it, meeting people from all sorts of backgrounds … some might randomly write blog posts about you … beautiful places, meaningful speeches, impact that you can witness and carry with you for years to come :) I am obviously sold on the whole idea. What about you? What are your thoughts and ideas for a more sustainable future?
Looking at a better future,
Presi