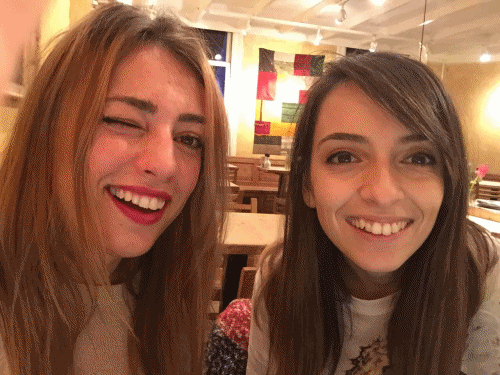 About Beautiful behind the scenes
---
A couple of weeks back Presi and I celebrated three full exciting months since we've started our About Beautiful project. Champagne popping!!!!
 For more than 12 weeks now, we've been posting an article each Tuesday (Presi) and Friday (Manu). The articles have been under the umbrella of personal development, comprising sports and training, nutrition, travelling, challenges, achievements etc.
So, what's happening behind the scenes? How is it like to be running a blog for three months? Here are a few lines about how we experience it.. and also, about what you can expect if you start a blog of your own 
Just before one of us starts writing an article, we'd be talking to each other, sometimes laughing ourselves silly while brainstorming about it or with where the conversation leads us… Moreover, we're having these Sunday brunches, which have become a ritual already that usually leads to up to 4 hours (or more) of chain eating in order to become blog productive  Overall, we have lots of ideas, but the toughest part is deciding what is "the best" one. Thus, we would appreciate if you let us know what you want to read about and if it's something one of us has experience with, we'll gladly write about it.
During these months, About Beautiful has been a committed and consistent ride: we haven't skipped any day, even if we were sometimes facing challenging situations, like struggling with 40 degrees fever, writing articles under the covers, while loaded with a couple of Paracetamols . Now I feel like laughing because I know Presi's all good, but she did write one of those recently and, surprisingly, considering the circumstances, it was a very successful one.
The greatest part of it all is that, before anything, Presi and I are very good girlfriends, which only makes it even more fun! The blog is like an extension of our friendship and doing an additional thing together  Further on, our partners are very supportive (as if they have a choice ), even if they'd sometimes give us the most rigorous reviews, as they are the voice of pseudo-objectivism 
What can you expect in the near future?
We're having a photo shoot approaching and we cannot wait for the day to come!!  We're armed with many ideas and tons of excitement. We'll be using the pictures to tune our blog and to spice up the Facebook page.
We'll be improving the website, thus we'll be focusing on a logo and on the overall design. If you have suggestions, ideas and feedback, let us know! We'd love to hear all about it!
Having fun along the way! 
So, this is what we've been doing since the launch of About Beautiful and what we're planning on doing in the near future. Overall, it's all about enjoying life, becoming the best we can be and sharing our experiences along the way, hoping that they'll inspire some of you.
Stay beautiful,
Manu