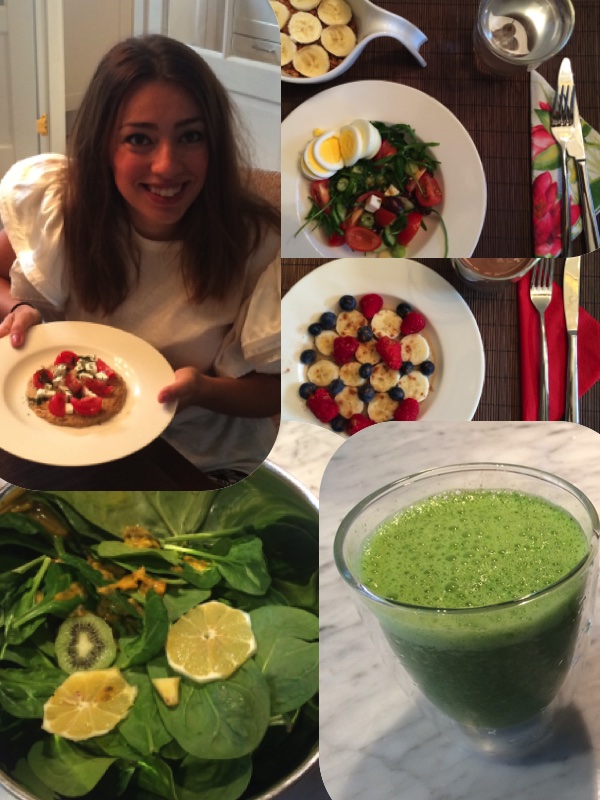 3 super delicious breakfast combos to spice up your mornings
---
This is not the first time I say this: I have a breakfast addiction! I've made it clear to my friends, on my Instagram, my Twitter, basically all over the place – online and offline. I'm never skipping breakfast and I find breakfast the most important meal of the day and the one I enjoy the most.
Maybe this has to do with the fact that I am a morning person… no doubt about that. I'm one of those people who, if they wake up later than 7-7.30 a.m., they feel they've lost the whole day and start getting tense that they're too late with everything
. This has a downsize though… 90% of the times I'd be the one making breakfast in bed… 
Because I love having my breakfasts, I also enjoy making them, thus I put together 3 of the breakfasts combinations I'd usually make – I hope they inspire some of you to get more creative… Otherwise, please share your tasty breakfast combinations… I'm dying to find out!
Breakfast combo no. 1, especially good if you work out before:
Greek salad with rucola, cucumber, kalamata olives, feta, boiled egg and olive oil – contrary to most people arguing salads are mostly lunch intakes, I adore the freshness of a morning salad;
Turkish yogurt (or quark), granola and banana slices;
Breakfast combo no. 2 and my favorite 
Oatmeal with no salt, plenty of blueberries, raspberries and strawberries or any other berry combination + banana slices. To make it really yummy, I suggest adding a pinch of cinnamon… heavenly! 
A home-made smoothie with half a banana, 1 spoon of organic cocoa, a bit of honey, propolis, a hand of berries and almond milk/ regular milk or yogurt. I got this smoothie mix idea from one of my girlfriends and I'm hooked to it ever since. So, thank you, Emi!
Breakfast combo no. 3 and how I like my weekends:
Oatmeal pancakes, mixing 300 g of oatmeal, 1 egg, a bit of water and a pinch of salt until it feels creamy… be careful throwing the pancakes in the air. They are especially delicious with halloumi cheese and a bit of honey… also delicious with feta cheese or cottage cheese, tomatoes and dill. Take my word for it: There's no limit to your creativity when it comes to oatmeal pancakes.
Home-made juice with fresh spinach, kale, 1 slice of avocado or kiwi, 2 slices of lemon, ginger, one or two passion fruits, brown rice milk or almond milk – also one of my girlfriend's tasty finds that I am now haplessly in love with 
So, these are some of my recent most favorite breakfast combinations. As you've probably noticed by now, I'm not big on eating meat products in the morning, even if I am no vegetarian… However, I like my breakfasts meat-free.
When it comes to oatmeal, granola, almond milk, brown rice milk etc., I've been trying out various products and brands. And my favorite so far are the Rude Health products… they feel so healthy and pure… there's no way I'll give these up!
Some people say:
"Eat your breakfast
Share your lunch with a friend
Give your dinner to the enemy"
It probably has to do with the amount of food intake a person should have – a generous breakfast, a good lunch and a very small dinner… Thus, I will end by saying: "Eat your breakfast!"
Hungry,
Manu