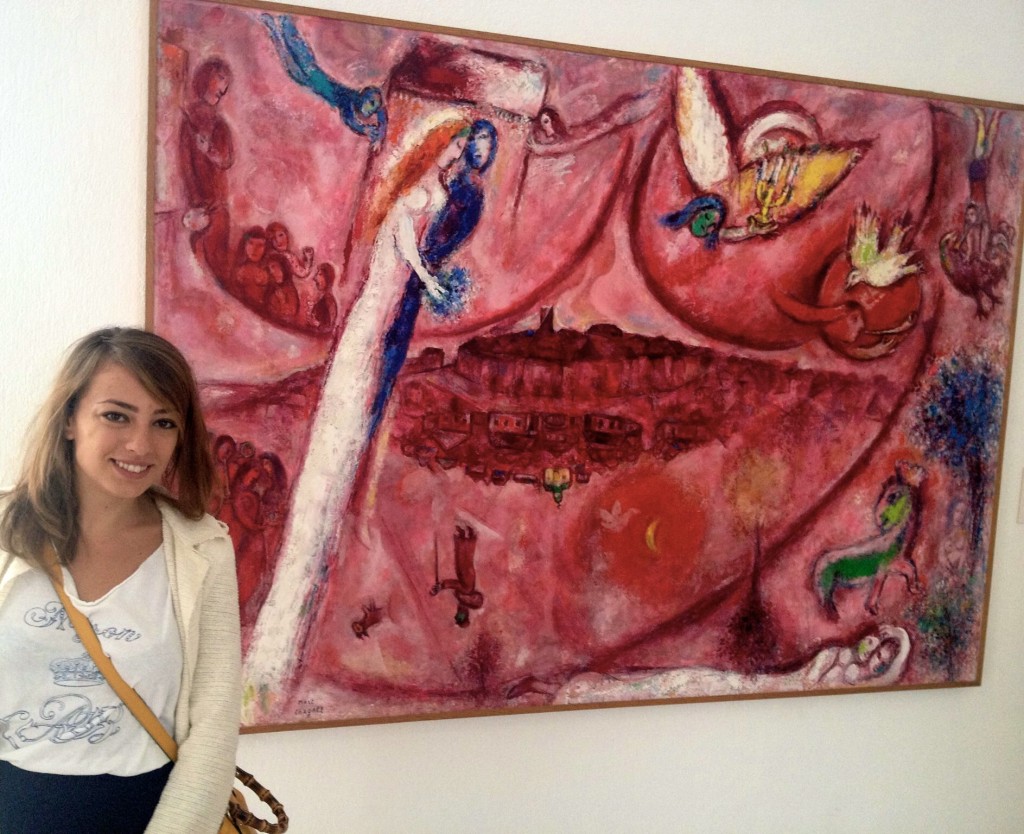 The day I re-discovered Chagall
---
The layover.
A bit under two years ago, I was in the South of France with a gap between a wedding afterglow and my flight that would leave me hanging with 24h to go. The plan was to choose a location in the area and start putting together some activities for myself to keep me entertained.
I chose Nice.
Since I hadn't visited Nice before and since my friends offered to give me a ride, I chose it as my one-day stop over. I'm not a static person; I relax by doing, so I knew I needed to decide on some things to do before I would get bored out of my mind. It started with a walk around Nice – exploring Côte-d'Azur from the Nice le Belle perspective – and rounded up with a visit to Musée Matisse and Musée Chagall… Matisse is breath taking, a genius of color and movement. I found myself amazed painting after sculpture after painting… Art, though, speaks to the soul in different ways…
Chagall speaks to me.
This is not an art lesson. I couldn't possibly sustain my statements with field knowledge, as I didn't study art. Nor did I spend days researching before I wrote this article… But I did follow my instincts and wrote about something I love – Chagall's art. I liked Chagall for years now, thus I wasn't about to spend time in Niece without visiting the museum that carries his name. It was a beautiful summer day. I walked in awe towards the museum; excited about the paintings I was about to see… and it was sublime! …and no, I don't say this too often! ;) I walked around and let myself carried away by the colors, the forms, the symbols, the emotions of each painting… I love Chagall's use of color, his vivid representations of his most loved people and things: his parents, his village and the closest town to where he was born – Vitebsk – his love, Bella, and later on Vava, the Bible etc. One of the most beautiful things about Chagall's art is his celebration of love. Most of his paintings illustrate what he cares mostly about: "Only love interests me, and I am only in contact with things I love." Below is one of my most favorite paintings of Chagall's, celebrating love, a painting of himself and Bella, suggestively called: The Birthday.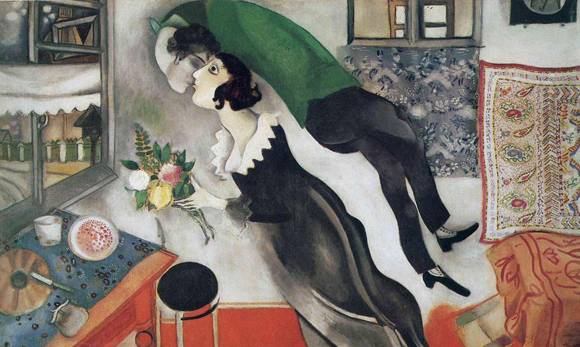 More so, in each painting, there's a whole world to discover, a lot happening, more than meets the eye, lying in symbols carefully painted to encourage the curious viewer to look further.
In Musée Chagall in Nice you will also get to enjoy Chagall's stained glass art, ceramic, and tapestries. Also, there lies a great array of Chagall's biblical inspired pieces. Some paintings depict Old Testament stories, maybe because Chagall had related to his own Jewish background, born in Belarus, and the modern Jewish reality. One of them is the one in the header of the article, slowly cropping me out of there ;))… illustrating King David and Bathsheba.
To end this article, I'll say that I feel, once in Nice, you should enrich your experience by visiting these museums… also, for the ones that love to grab a drink or have a bite after a visit at the museum, there is a beautiful, petite terrace in the garden of the Musée Chagall, where you can take a deep breath, let everything sink in and write your postcards… for the traditional ones ;))
Thinking of Chagall's "If I create from the heart, nearly everything works; if from the head, almost nothing",
Manu