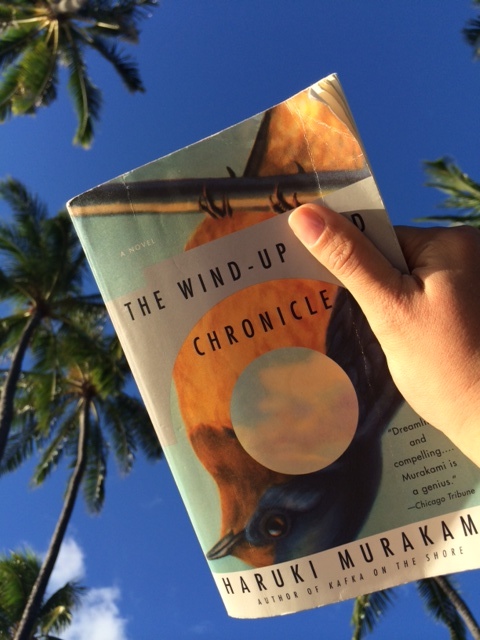 Murakami and his Wind-Up Bird
---
For a while now I've been wanting to read Haruki Murakami's book – The Wind-Up Bird Chronicle. I was very curious on what Murakami had to offer, considering he's one of Japan's best selling authors of all times. It was one of the books on my waiting list, and the time came when I grabbed The Chronicle and gave it a go.
I'm sharing my thoughts about the book, while trying my best not to spoil it for those of you who haven't read it yet.
The book has outstanding reviews, ranging from the New York Observer – "A stunning work of art… that bears no comparisons" – to the New York Magazine – "An epic… as sculpted and implacable as a bird by Brancusi". Therefore, it seemed I'm in for a great reading ride.
The novel is very catchy, I'll tell you that. The first 200 pages felt like minutes. It's intense and keeps you mesmerized at every single step of the way. If I were to translate it into a movie, trying to understand what Toru Okada – the main character – is going through, is like playing Tom Hanks in Catch Me if You Can. Murakami is a genius as he knows how to fidget with the mind of the reader, by exercising his eclectic, quasi-playful and mysterious style.
Without disclosing too many details, I'll just say that, when finishing the book, I couldn't help but feeling I needed a couple more chapters to reveal everything in this labyrinth of curiosities. The Wind-Up Bird Chronicle left me clinging for an explanation. I could come up with a few reasons why things happened the way they did, but I wasn't sure which one was the 'right' one.
I turned to the Internet to feed this want for certainty and, after I noticed there was nothing clear to find out there, I turned to my friends. Some of them had read The Chronicle and some had read other books of Murakami's. I gathered a selection of their impressions:
Lore – I like Murakami and read a few of his books apart from The Wind-Up Bird Chronicle -Sputnik Sweetheart, What I Talk About When I Talk About Running – and my personal favourite – A Wild Sheep Chase. The transition between real and surreal, certain and fantasy, from the exterior to the interior sense or from awake to dreaming is so fine that you only realize what happened when you are loaded with indignation, thrill or expectancy.
Kay – I read what loved ones recommend me. Murakami was a recommendation from my mom. I read Norwegian Wood 2 years ago. At the same time I was reading L'œuvre by Émile Zola. Maybe it sounds weird, but I cannot remember too many factual details from Murakami's book. What I do recall is that his style was a peculiar and twisting one.
Presi – I read two books of Murakami's – What I Talk About When I Talk About Running and Dance Dance Dance. I remember that the latter was a thrilling piece of writing, one of those books that keeps you hooked and makes you leave whatever you were doing, sink into the couch and read. Its ending is so sudden that you don't know what struck you.
Mr. Fox – The Wind-up Bird Chronicle is a beautifully written novel. I loved how Murakami was able to share Japanese, Chinese and Russian war history and combine it with corresponding Japanese post wartime sentiment, without it coming across as an educational book. Towards the end of the book, the thought came to me that that truly beautiful writing does not necessarily have to have a clear purpose, as we are accustomed. The same goes for certain sculptures and paintings which we appreciate as they are.
After my own experience and those of some of my friends, I conclude that there's no clear, factual explanation for the book (nor apparently for other books of Murakami's that are mentioned above). It's what you make of it. But what Murakami will effortlessly and masterly do is offer you the foundation to exercise your creativity and build up your own certainties… or fantasies.
Now excuse me while I put this wind-up bird back in the palm tree,
Manu