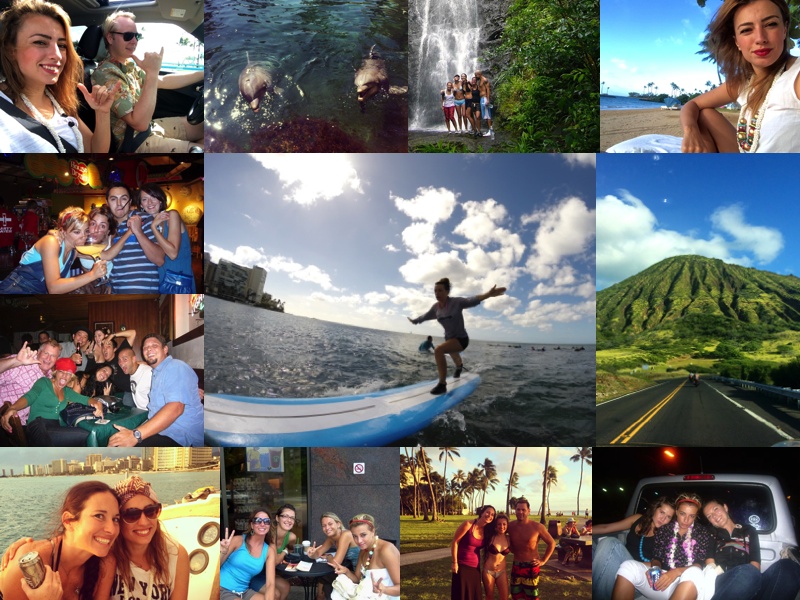 Aloha and welcome to Hawaii!
---
Seven years ago, while I was in my third year of Bachelors, I applied for a US Work & Travel program to go and work in Hawaii, during my summer holiday. Before I knew it, three of my friends – Iulia, Seve and Ale – and I were packing our bags to our paradisiac destination.
We'd be staying on the island of O'ahu, in Honolulu, renting an apartment on the beautiful Seaside Avenue in Waikiki beach. I was working as a hostess at Planet Hollywood, but to keep up with my expenditures – mostly generated by a weakness for fashion – I got a second job as a sales assistant at Guess, the American clothing brand and retailer.
Overall, things on O'ahu are pretty relaxed and laid back. This goes for the city of Honolulu as well. Contrary to some beliefs, Honolulu can be a pretty quiet city compared to most capital cities around the world. It's got its own beach-town vibe, while very stylish and clean. And the core of this city resides in its embrace of people from all over the world, starting with its native Hawaiians, to the resident Americans and Japanese. But be careful! Once you get the taste of this city, you're just starting an addiction of always wanting to come back. Honolulu has an unique way of making you feel at home.
For the shopaholics out there, Ana Kalakaua Avenue is gemmed with stores, from the island boutiques and surfing apparel retailers to the high-end brands from all over the world. Honolulu is your very own shopping paradise in paradise.
On your free time in O'ahu, you'll be hiking, surfing, boogie boarding, playing volley ball on the beach, sun bathing, relaxing, reading a book under some perfectly shaped palm tree, shopping, diving etc. The options are endless. On my stay here 7 years ago, before I knew it, I made myself lots of friends: Kevin and Margaret (thanks to whom my friends and I have seen some of the coolest places on the island and hiked the craziest mountains), Noée and Hanna (also working at Planet Hollywood for the summer season), Kate, Jordan, Jackie, Bill… and so on.
Having returned 7 years later, I found the island exactly like I remembered it. It felt as if the time froze here. To make things even better, having re-encountered some of my friends, I felt as if I hadn't seen them since yesterday. I got a bit emotional walking on the streets where I once lived and worked, but was immensely happy to see that pretty much everything remained intact and people keep themselves really young due to an active lifestyle. Or it could just be the aloha spirit.
"Aloha" is a word with various connotations for the Hawaiians, just like "gezellig" is for the Dutch and "dor" for the Romanians. It stands for love, peace and compassion. But it's also used as a greeting to say hello and goodbye.
I've asked myself, judging from my experiences of O'ahu 7 years back and now, what would I say are the top 5 things to do on the island?
boogie boarding in Waimea and surfing Sunset Beach on the North Shore – for the experienced surfers, this is heaven. Even if I am not a proficient surfer and I couldn't imagine riding those huge waves, just sitting on the sandy beach and watching can be very entertaining.
Hiking – there are heaps of hiking trails, but if you were to choose one, I'd still say Diamond Head. Once at the top, the 360° view of Waikiki beach and Honolulu makes it all worth it.
Sailing – a must-do activity while in Honolulu. Find the least touristy sailing trip (best thing would be to make some friends who own a boat) and hit the coast of Waikiki beach all towards iconic Diamond Head.
Volleyball on Waikiki beach – just passed the Army Museum in Waikiki beach, there is a great spot to play volleyball (as well as sun bathing and sports activities). People are very friendly, so it's very easy to join them for a game or two.
Lanikai Beach – one of the most pristine, sandy beaches there is, rightfully ranking worldwide tops of most beautiful beaches is a must-enjoy on O'ahu.
Mahalo for your time.
From the islands of Aloha,
Manu