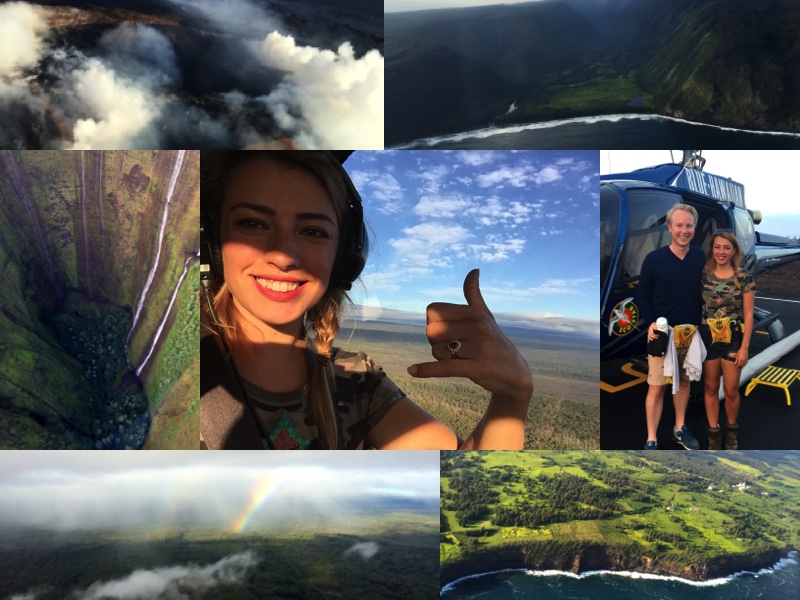 – Fear of flying? – Take a helicopter ride!
---
My friends and family know by now that flying is not my favorite thing to do. I love travelling and I am always looking forward to getting to the destination but I'm hardly ever enjoying the ride. Usually, one night before a flight – especially a long one – I would barely get any sleep at all, tormenting myself with all the negative thoughts one can have when knowing he's got to face his fear the next day. On top of that, I am aware of the fact that I'm not exactly the easiest passenger to have on board or the happiest camper sitting next to you. I will probably be talking to you the whole flight to keep me distracted from the fact that I'm flying and regardless of never having met you before, I will kindly ask you to hold my hand during take offs and turbulences – which I happen to consider the most hardcore parts of flying. However, the positive part of this is that I've made quite some nice friends during some of the flights and once I even got a new client.  You can check over here to read about the experiences of other people who suffer the same kind of problem and how they manage to solve their flying issues.
Presi's challenge last week – The Unexpected Challenge Epiphany – urging us to try on something new, something that is outside of our comfort zone settled in and made me wonder what to do. I flipped over a bunch of ideas and realized that for me, the most challenging thing to do would be to take a helicopter ride. It's something I've always wanted to do, but never really had the guts to go for it. While visiting the Islands of Aloha and currently being on the Big Island also known as Hawai'i, I've had heaps of brochures landing in my hands with multiple activities to do. The helicopter ride was the one which would always let out a long sigh.
Two factors contributed to my decision: My companion on the islands – Mr. Fox – was very eager to take the helicopter ride, meaning I'd have a hand to squeeze if in need and Presi's challenge of the necessary 'evil' in our personal development was constantly ticking in my ear and I somehow felt an "It's now or never" impulse to go ahead and do it.
The minutes before the flight were quite hard and even now I'm not entirely sure how I pushed myself to go ahead with it, contrary to all my thoughts spurring me to hop off the helicopter before it takes off… but, boy, am I glad I stayed. During the take off, I felt how I was surprisingly starting to unwind and to relax. Moreover, before I knew it, I was enjoying it like anything. I would have never thought the actual experience of flying will ever provoke any excitement, let alone happiness. But it did and, even if I had thought I'd be the one begging the pilot to get us back on the ground, I was the one who couldn't hold her enthusiasm and kept on joking and asking questions about the territory we were exploring.
Dale, our pilot from Blue Hawaiian Helicopters, was great at informing us about everything we were seeing: volcanoes – from active to dormant ones – burning lava, breathtaking coastlines and valleys splurging with numerous waterfalls. The Big Island has an amazing ecosystem, arguably the most unique I've ever seen, contrasting areas with dark, black lava, craters and black-sanded beaches with green areas with sandy beaches. And to make it even nicer, the whole trip culminated with a beautiful rainbow on the way back.
Some of you might know that Big Island is where 2 great volcanoes reside: Mauna Kea and Mauna Loa. An interesting fact is that Mauna Kea is not only one of the most well-known dormant volcanoes in Hawai'i, but also the tallest mountain on Earth, more than 2 times higher than Mount Everest if measured from its oceanic base. Another part of the island that I thought was amazing was Waipi'o Valley – that I look forward to exploring by foot too – the place where the Hawaiian kings resided, a valley over 600 m below the surrounding land. The landscape is breathtaking and you will find the image of it in the collage attached.
To end this article, I will not only say that I am immensely happy I did this helicopter ride, but also that I feel I should thank Presi for challenging us all. If you act on it, you will definitely feel very proud of yourself and might also transform a fear into something surprisingly enjoyable.
Aloha,
Flying Manu