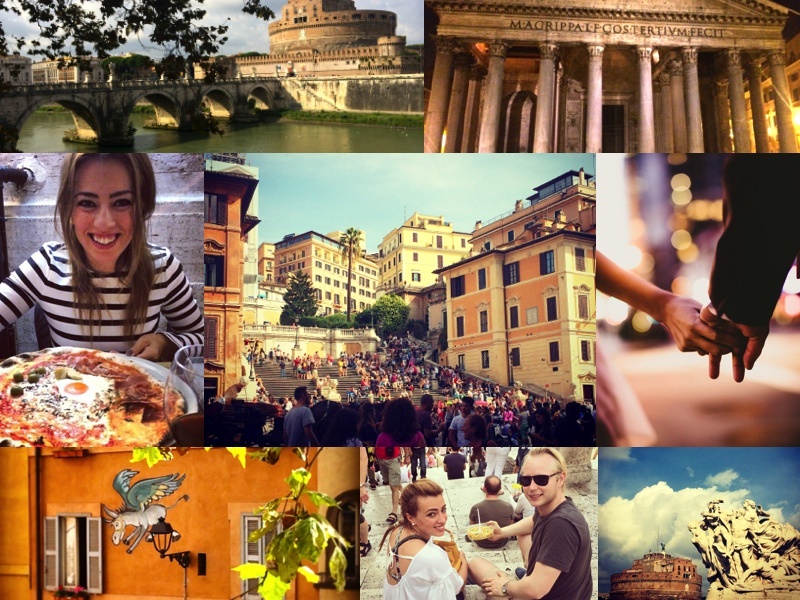 When in Rome, walk hand in hand
---
Once in a while, one feels like taking a pause from the daily routine and escaping to another country, another culture and hopefully a better weather. That's how I was feeling just recently, as the transition from sunny days to a fully gloomy weather was so sudden that I wasn't yet prepared to say my 'Goodbye' to summer.
While joggling a few still sunny European cities as my autumn-wintry refusal destinations, I decided to pack my bags and go to Rome.
'Making a choice' is one of the hardest things you'll ever have to do when in Rome. There are just so many tempting options, as it's an abundant city of tasteful opportunities: from places to visit, to eat, to shop, etc. In terms of architecture, it is simply overwhelming. The buildings are lovely, in their Romanesque, Renaissance or Baroque styles… everything is so elegant and it just feeds the aphorism that Rome wasn't built in one day.
One of the main things most people – if not 'all' – adore in Italy is the delicious selection of food and wines. We can eat Italian food almost everywhere around the world, or some variations of it, but it's almost never as tasty and pure as in Italy itself. Among the venues I loved and I suggest you consider when in Rome, are the following:
Ristorante Pizzeria Navona Notte – very close to Piazza Navona and serving a great selection of pizzas and pastas. It's usually packed, so you might have to wait a while to get your table, but it's all worth it.
Enoteca Ferrara – very pure and rich Roman cuisine, but consider making a reservation beforehand. When there, you can ask for the owner, Maria, who is a wine connoisseur and who will suggest you the best wine choices for your food selection.
Sofia- in the area of the Spanish Steps and Fontana di Trevi. Their fish dishes are great and it's like a hidden, relaxing gem from the highly touristic areas.
Pastificio – I've had the pleasure to enjoy amazing pasta in Rome, but it was rarely as delicious as the one at Pastificio. And, above all, it's ridiculously cheap – €4 for a bowl of pasta that I recommend you take away and eat on the Spanish Steps on a sunny day.
People always say – "When in Rome, do as the Romans do". The thing that positively surprised me the most wasn't the overwhelming, fascinating architecture, or the delicious food, or the sleepless buzz of the Italian taverns… It was the habitual hand in hand promenade of the people. From younger to elderly ones, Roman couples like to take their evening walks, enjoy each other's company and the beauty of their own city… hand in hand.